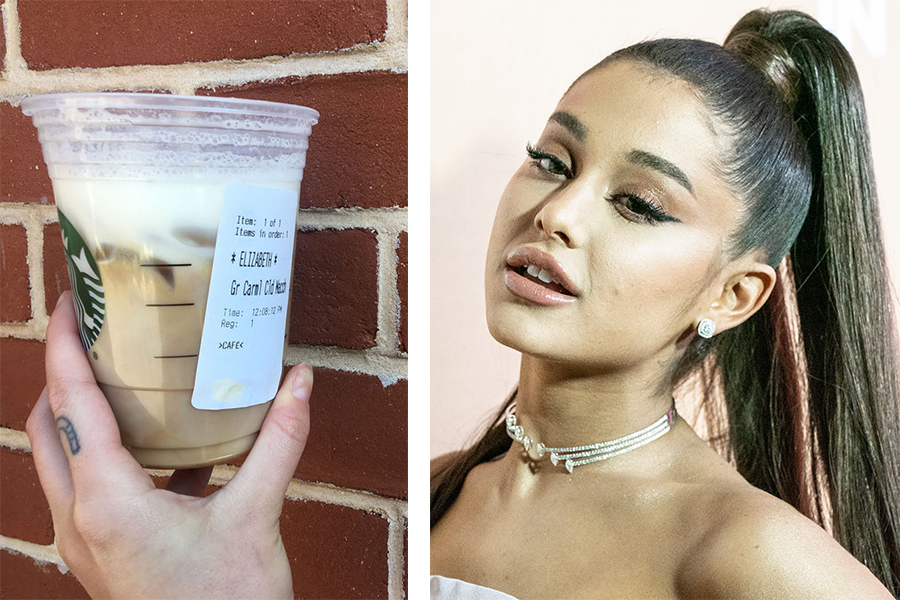 On Tuesday Starbucks announced that it would be adding a new drink to its permanent menu: the Cloud Macchiato. And guess who the company recruited to celebrate the launch? None other than Ariana Grande herself (with some help from her pets).
The partnership makes sense — I think we've all heard that "Ariana Grande Latte" joke one too many times. The pop star is also the reigning queen of all things sweet and dreamy, and she's got a slight obsession with clouds (don't forget her cloud tattoo and cloud perfume). In a series of Twitter posts, she showed off her love for the new drink and, yes, she did make it look adorable. But does it actually taste good?
The Cloud Macchiato comes in two flavors: cinnamon and caramel. I tried the latter to find out if it's a worthy addition the Starbucks repertoire. My verdict? This one is a home run.
Here's how clouds fit into this drink: A classic macchiato (a shot of espresso combined with a dash of steamed milk) is topped with Starbucks' cold foam (non-fat milk that has been frothed cold instead of hot to give it that extra-creamy texture).
This light, creamy topping (which is drizzled with caramel syrup) is the star of this drink. It makes the bitter espresso much easier to drink (especially for coffee wimps like me, who rarely drink espresso or even black coffee). I like the subtle caramel flavor, too, which isn't overbearing with its sweetness. The only downside? Once the cold foam melts away (and it will eventually, even in this icy weather), the drink does start to taste like a simple caramel iced coffee.
Starbucks boasts that the Cloud Macchiato is silky and exhilarating, and I can honestly say that the drink lives up to that description. And while some new Starbucks drinks focus solely on attention-grabbing flavor, this one actually lets you taste the coffee. So yes, the Cloud Macchiato puts a fun new twist on Starbucks' core coffee identity. Worthy of Ariana Grande, indeed.
Source: Read Full Article