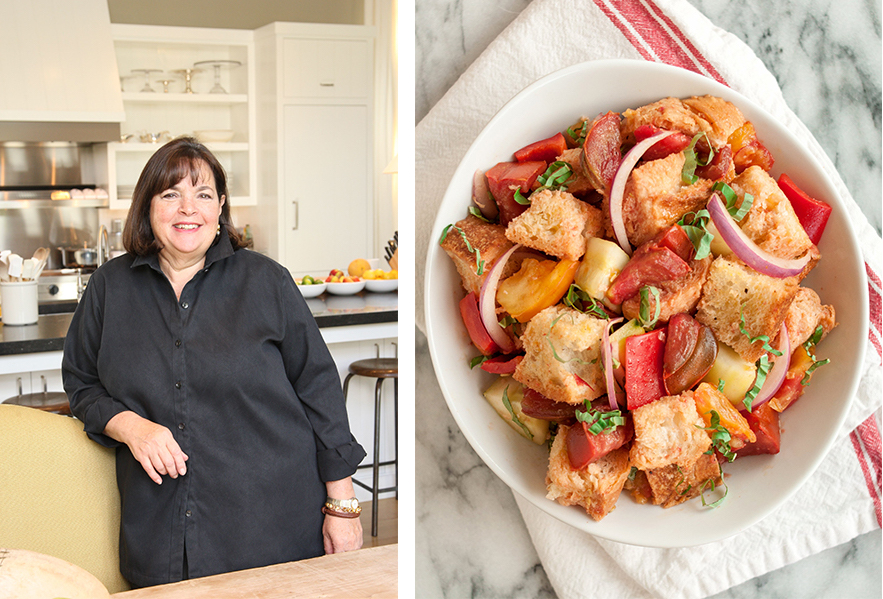 Ina Garten's iconic cooking show, Barefoot Contessa, is returning for its 16th season (!!) this April, so dust off your pots, pans, spatulas, and hand mixers because we are about to be blessed with even more of the queen's tips and tricks. The latest season will once again focus on Garten's new cookbook, Cook Like a Pro, and details have already emerged about what the first episode will cover.
Food Network recently revealed that the debut episode of season 16 will be called "Farm Stand." In it, Ina will head to a farmers market, where she'll find inspiration (and ingredients) for a farm-to-table spring feast. The menu will be all about fresh, bright vegetables, and colorful dishes that will get you in the mood for warmer weather.
First up, she'll be cooking rosemary rack of lamb with easy tzatziki and Parmesan roasted zucchini. After heading to the farmers market for more produce, she'll be preparing fresh corn pancakes and Tuscan tomato and bread salad with a red wine vinaigrette. Dessert will be perfectly suited to spring, with all its newly in-season fruit: fresh berries and sweet ricotta with raspberry and blackberry sauce.
Ina has been dropping hints that the season of Barefoot Contessa is about to arrive on Instagram, but now we have official proof that the show will feature the same mouthwatering recipes we've grown accustomed to. As usual, Ina will showcase decadent yet simple meals for her adoring audience, but will we also get some celebrity guest appearances?
Her Thanksgiving special was packed with her famous friends, like Jennifer Garner, so it stands to reason more familiar faces will be dropping in to help her cook (Taylor Swift, we're looking at you). And what about Jeffrey? Maybe he'll stop by to make her a cup of coffee while she's hard at work.
Source: Read Full Article