Total:

55 min

Active:

35 min
Ingredients
1 medium summer squash, sliced on the diagonal into 1-inch slices
1 medium zucchini, sliced on the diagonal into 1-inch slices
2 tablespoons extra-virgin olive oil, plus more for drizzling
Kosher salt and freshly ground black pepper
4 tablespoons unsalted butter
1/4 teaspoon crushed red pepper flakes
2 cloves garlic, grated
Zest of 1 lemon, plus lemon wedges, for serving
1/2 loaf French bread, split horizontally, then halved crosswise
1/4 cup grated Parmesan
1 1/2 pounds peeled and deveined shrimp, tails removed
1/4 cup fresh parsley leaves, chopped
Directions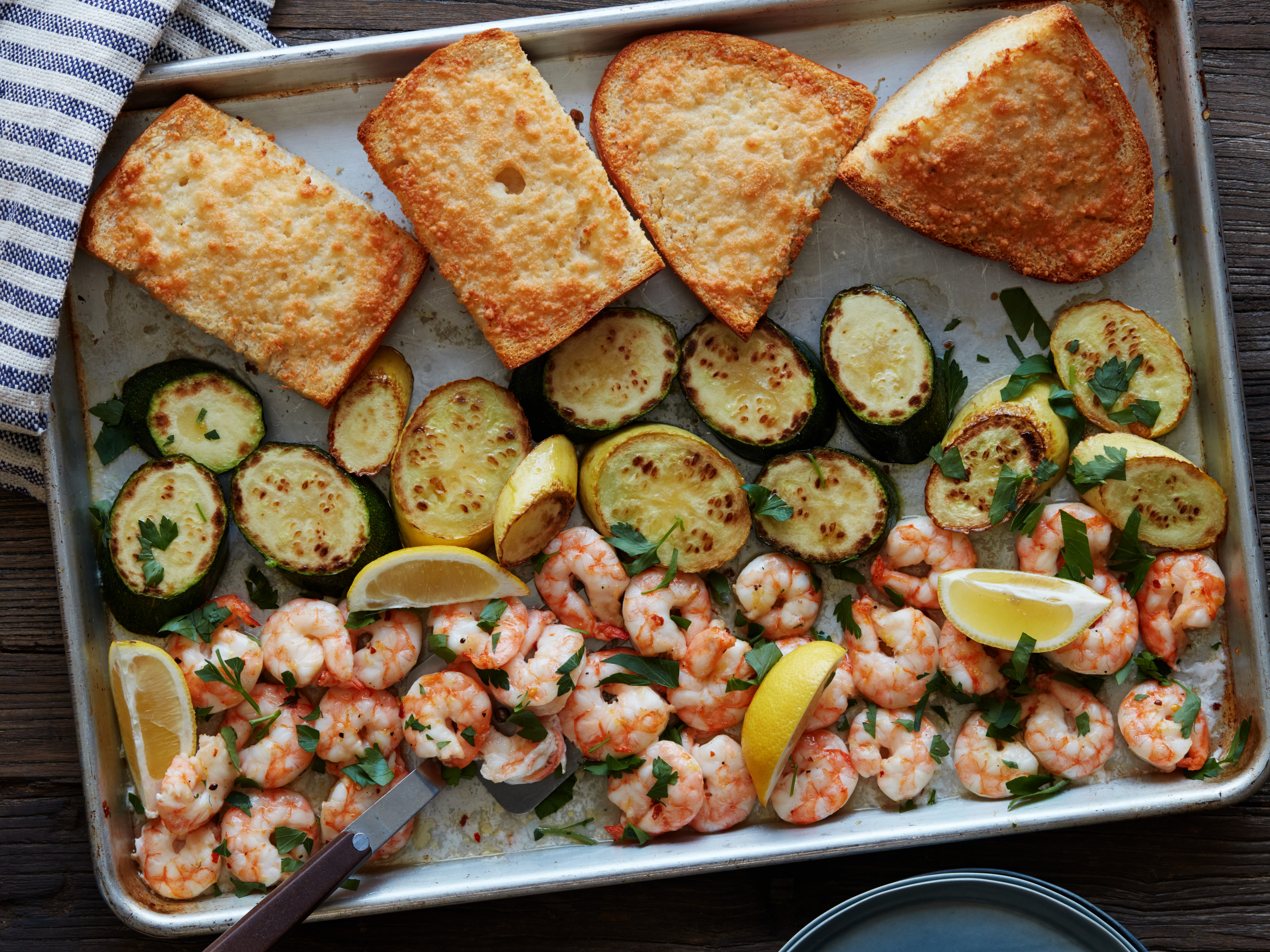 Preheat the oven to 450 degrees F. Put the squash and zucchini on a baking sheet, drizzle with some olive oil and sprinkle with salt and pepper. Roast until golden, about 15 minutes.
Meanwhile, combine the butter, red pepper flakes, garlic, lemon zest, 2 tablespoons olive oil, 1/2 teaspoon salt and a couple of grinds of pepper in a large microwave-safe bowl and microwave until the butter is melted, about 1 minute. Drizzle the bread evenly with 2 tablespoons of the butter mixture and sprinkle with the cheese; set aside. Toss the shrimp with the remaining butter mixture.
After the squash and zucchini have roasted for 15 minutes, remove the baking sheet and flip the vegetables, moving them to the center third of the baking sheet. Put the bread on one outer third of the baking sheet and the shrimp on the other. Slide the vegetables closer to the bread so that the shrimp is in a single, even layer. (This is to ensure even cooking.) Return to the oven and cook until the shrimp are cooked through and the bread is golden, 10 to 12 minutes.
Sprinkle with parsley and serve with lemon wedges.
Source: Read Full Article