Total:

1 hr 10 min

(includes standing time)

Active:

30 min
Yield:

6 servings

Nutrition Info

Nutritional Analysis

Per Serving

Calories

289

Total Fat

8 grams

Saturated Fat

1.6 grams

Cholesterol

49 milligrams

Sodium

570 milligrams

Carbohydrates

36 grams

Dietary Fiber

4 grams

Protein

21 grams
Ingredients
Directions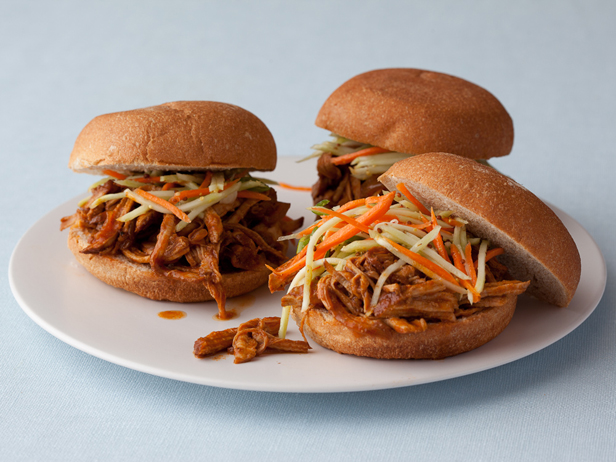 In a large Dutch oven, heat 2 teaspoons of the oil over medium heat. Add the garlic and onion and season with salt and pepper. Cook until softened and lightly browned, about 5 minutes. Add the chili powder, cumin, cinnamon and cayenne and cook until toasted, 1 minute more. Stir in the chicken broth, ketchup, molasses and 1/3 cup of the vinegar. Bring to a simmer and add the pork. Simmer, covered, until the pork is just cooked through and tender, about 20 minutes.
Meanwhile, in a medium bowl, whisk the mustard with the remaining 1 teaspoon oil and 1 tablespoon vinegar in a large bowl. Add the broccoli slaw and toss well. Season with salt and pepper and set aside. 
Remove the pork to a cutting board and let stand for 5 minutes. Increase the heat under the Dutch oven to medium high and cook the sauce until thickened, about 5 minutes. 
Shred the pork with 2 forks into large chunks and return to the thickened sauce. Toss well to coat and simmer 10 minutes, tossing occasionally, to let the pork absorb the sauce. Serve on the buns with the slaw on the sandwiches or on the side.
Source: Read Full Article