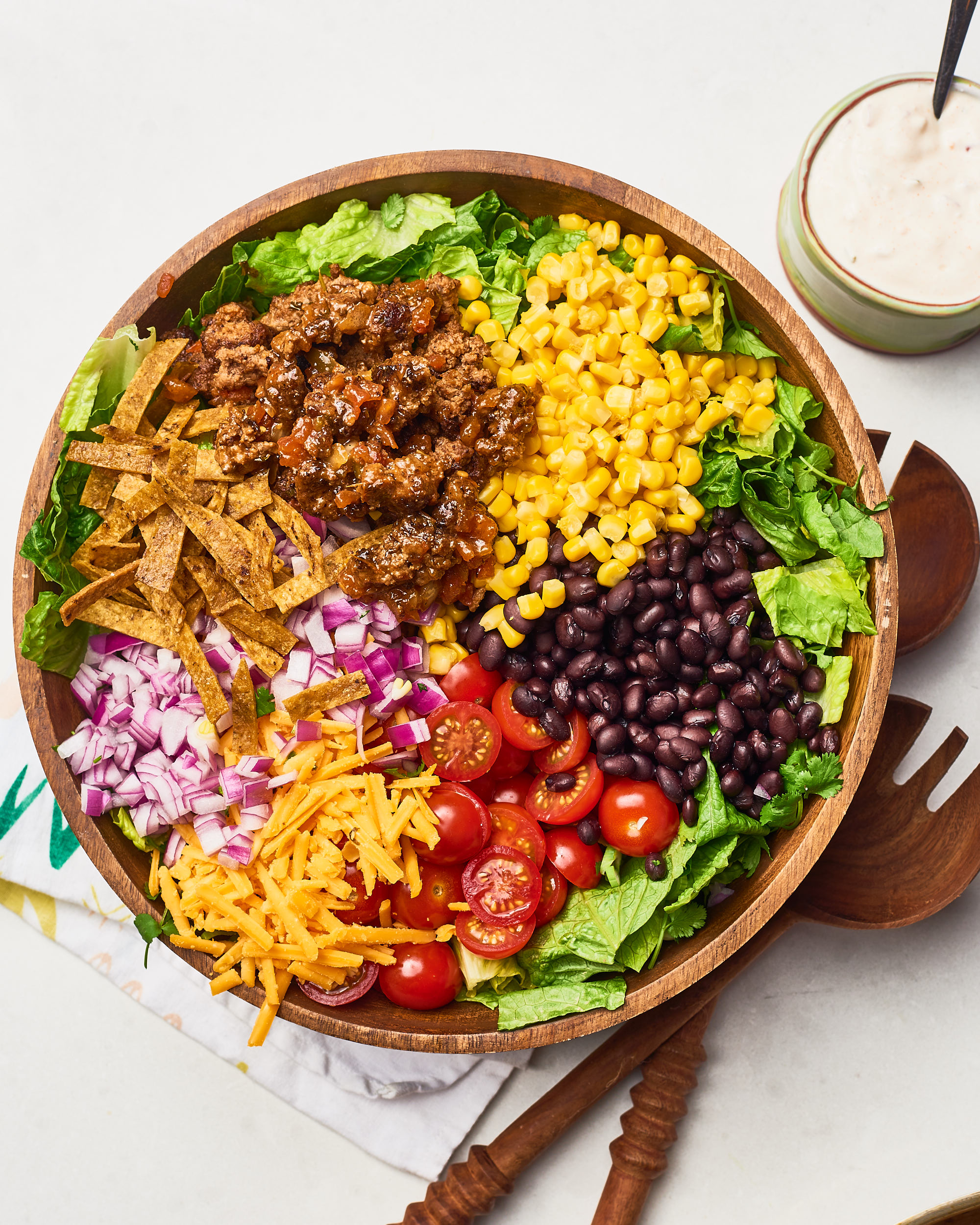 Honestly, is there a better salad than taco salad? Crisp romaine gets punched up with cilantro and onions, then tossed with crunchy tortilla strips, spicy ground beef, shredded cheese, and lots of fresh veggies like corn and tomatoes. It's the perfect combination of flavors and textures.
It might seem daunting to pull this all together at home, but we've got a few smart shortcuts for both the cooking and the prep that yield the best, easiest taco salad with the fewest steps possible — suitable for both the weeknight table and weekend dinners with friends.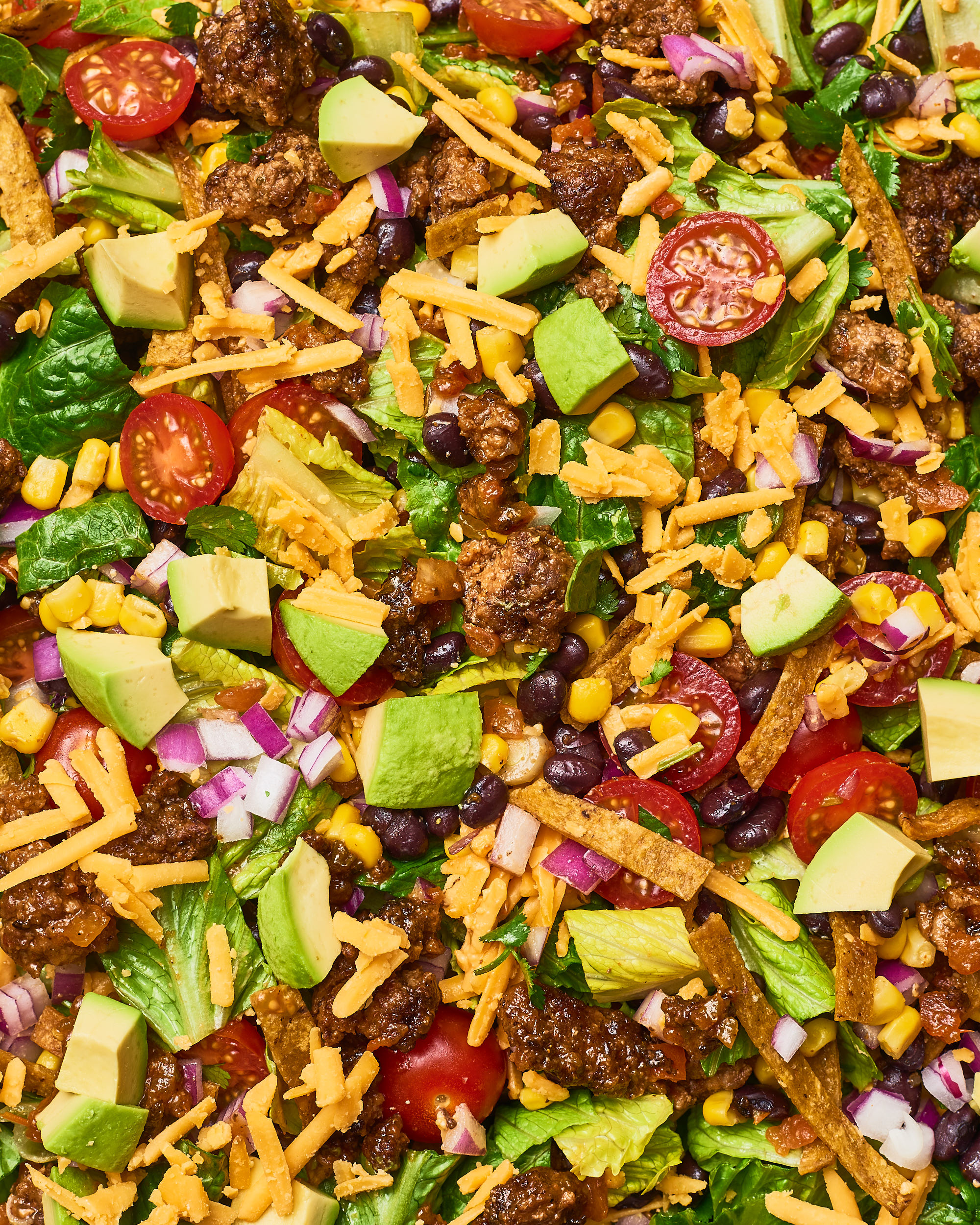 Restaurant-Worthy Taco Salad at Home
What makes this taco salad so darn good is that it holds up to even the most elaborate restaurant taco salads. That's because we thought of all the small-but-worth-it upgrades — like tossing cilantro in with the greens and frying our own tortillas — resulting in a salad more satisfying than anything you could order out. But don't worry, we condensed a few steps and took a few shortcuts so that this recipe doesn't take all afternoon to prepare.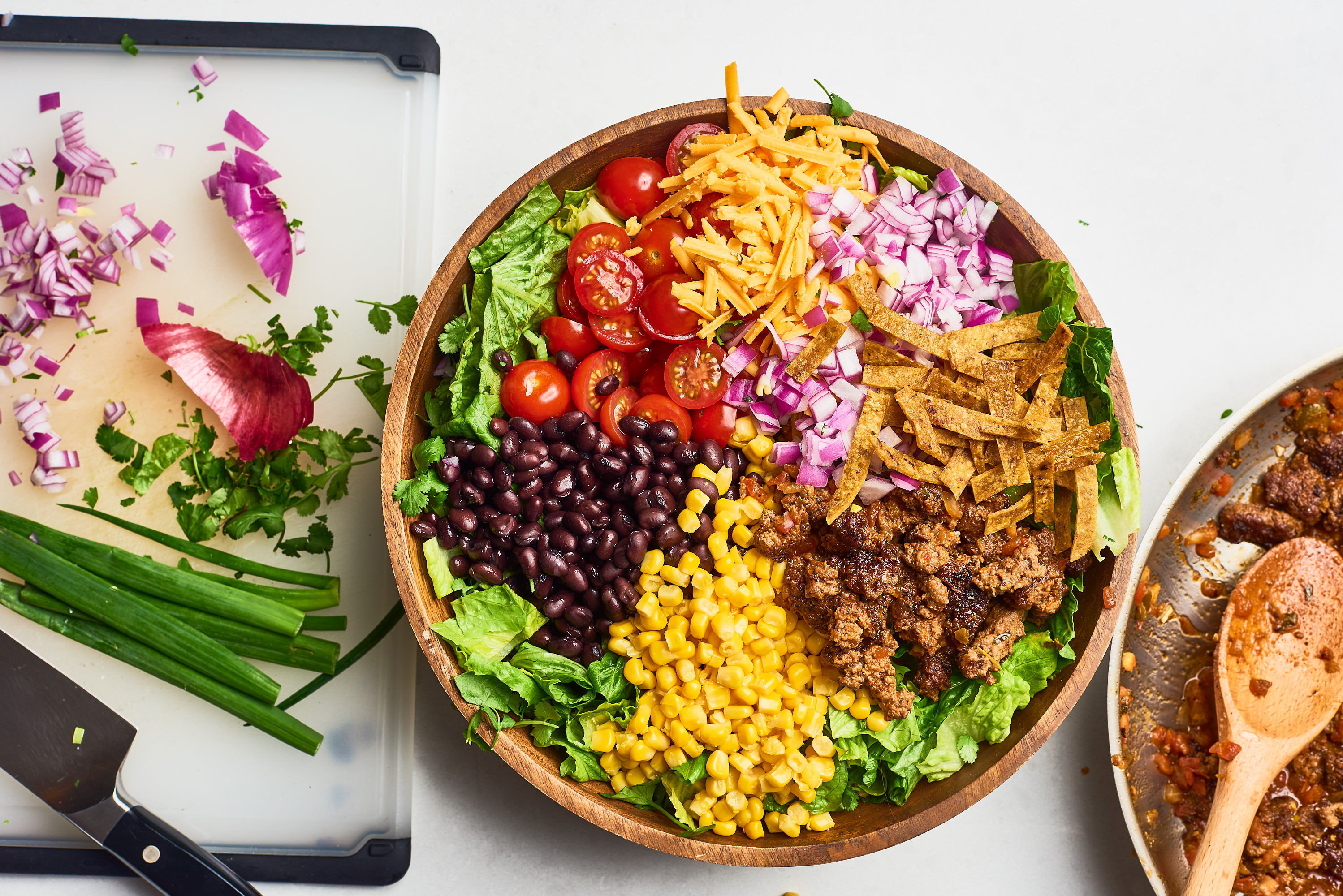 What Ingredients Do I Need for the Best Taco Salad?
Sure, you could toss almost any ingredients together, add some salsa, and call it "taco salad," but these four components (plus a special dressing) make for the very best taco salad that rivals a restaurant version.
Herby Greens: The base of the salad should be a combination of hearty salad greens and fresh herbs. My kids and I like romaine for its cool crunch, but a mix of romaine and baby kale is also nice — especially if you plan to make this for meal prep. Add some chopped cilantro or green onions, and you've got the perfect base for a bevy of toppings.
Crunchy Tortillas: Full side-eye to those fried tortilla bowls often used for taco salads — they're hard to make at home and are just too dang hard to eat. Instead, fry some tortilla strips in the same skillet you use to brown the beef.
Spicy Beef: This is what really takes this salad over the top. Ground beef flavored with taco seasoning and cooked with fresh salsa is the ideal mix of piquant and savory, and adds a warm component to an otherwise cold salad.
Fresh and Easy Toppings: This is a bit of cook's choice, although I think crisp corn, creamy black beans, and sharp cheddar cheese are a must. Keep in mind you want a mix of sweet (corn) and acidic (tomatoes) toppings to strike a nice balance. If you want to skip the cheese, opt for another creamy ingredient like diced avocado instead (or, of course, use both).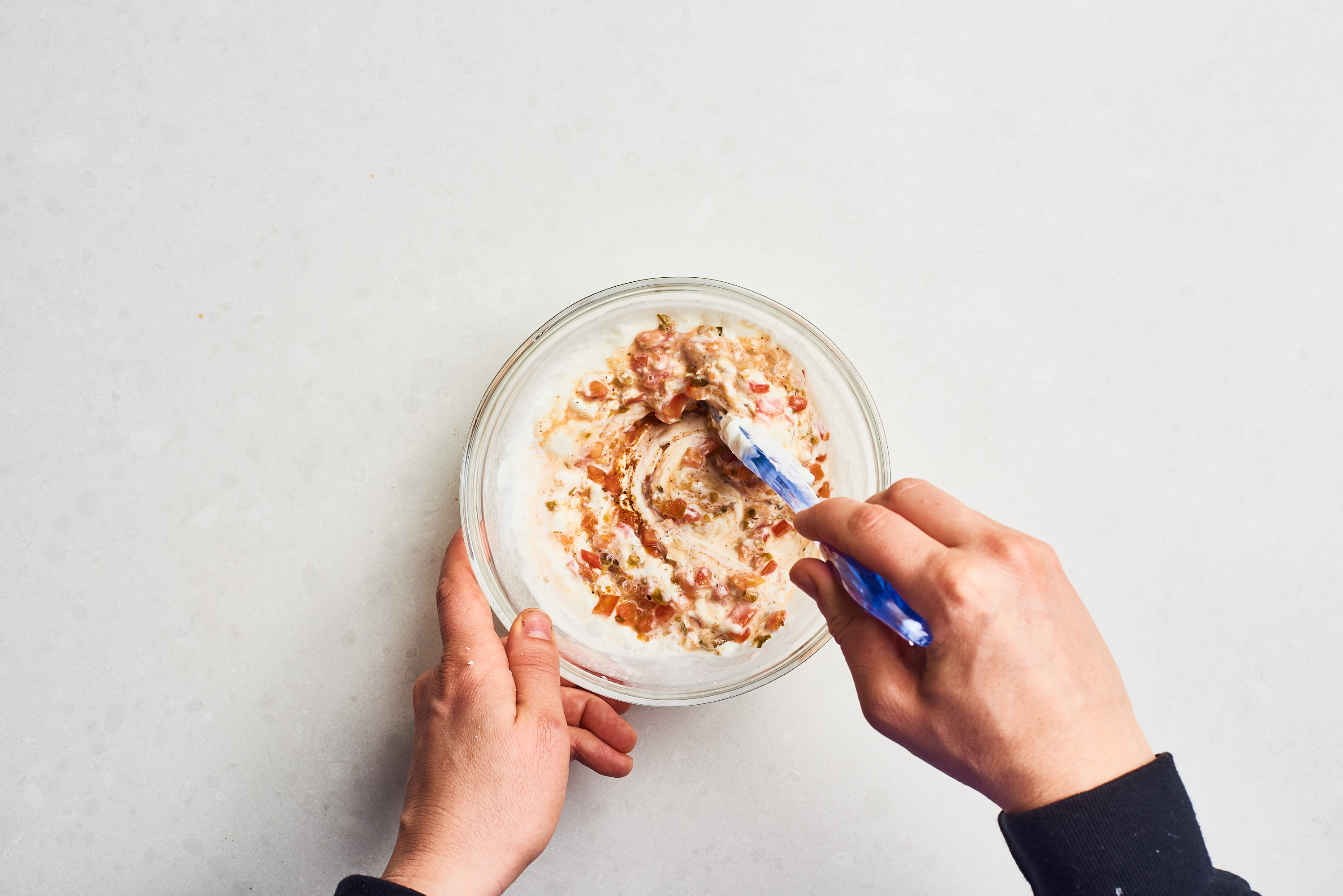 What's the Best Dressing for Taco Salad?
You were going to put sour cream and salsa on your salad anyway, right? So here's the very best dressing you can make for taco salad: a mixture of sour cream, salsa, lime juice, and a dash of taco seasoning. It makes for a thick and creamy dressing that's best tossed with the salad just before serving.
How Can I Prep This Salad in Advance?
This salad is very much #mealprepgoals, because the romaine holds up well in the fridge and it all tastes good cold. If you're making this salad in advance, add the tortilla crisps and dressing just before serving. If you're meal prepping, you can stash the tortilla crisps in a small zip-top bag or parchment envelope.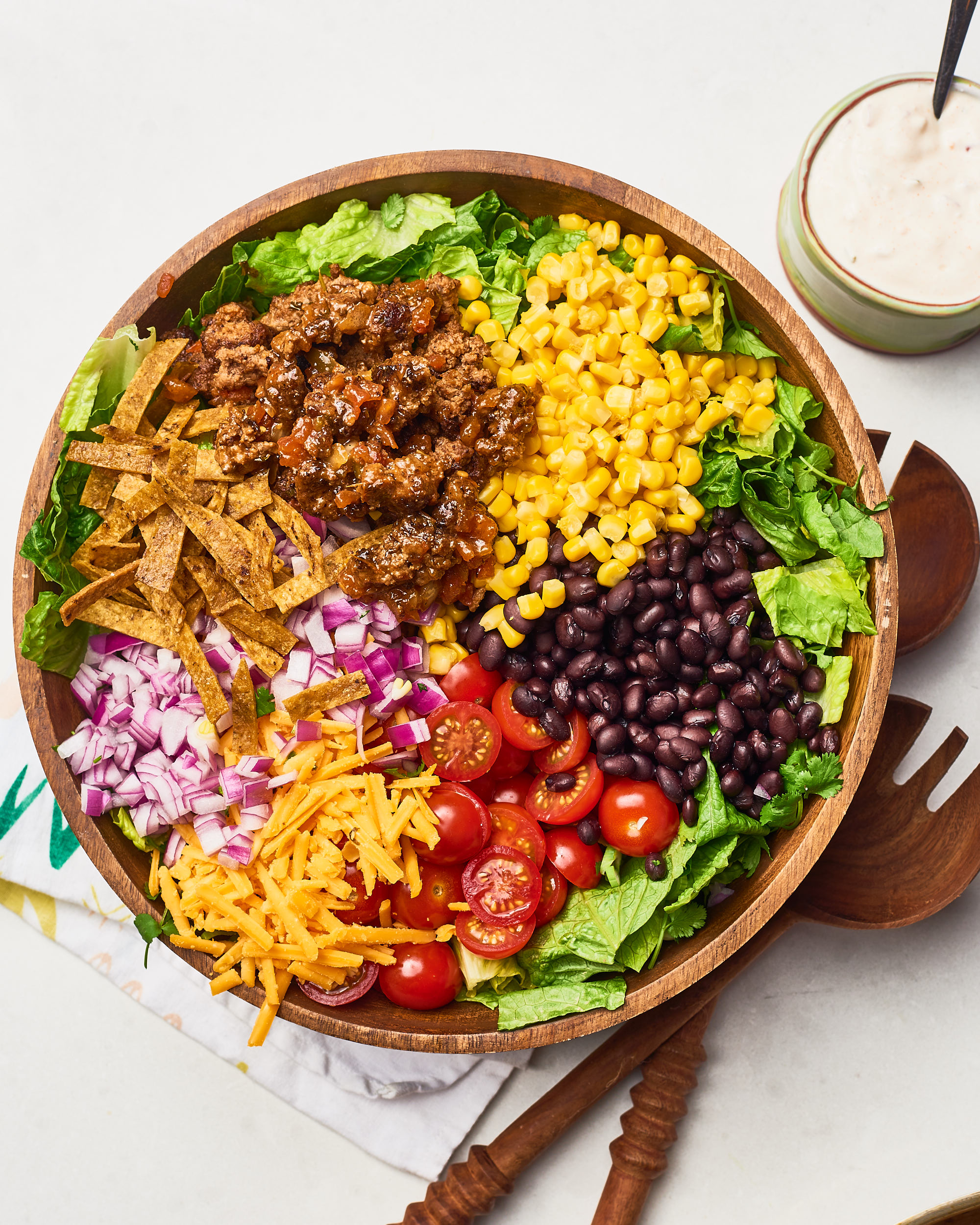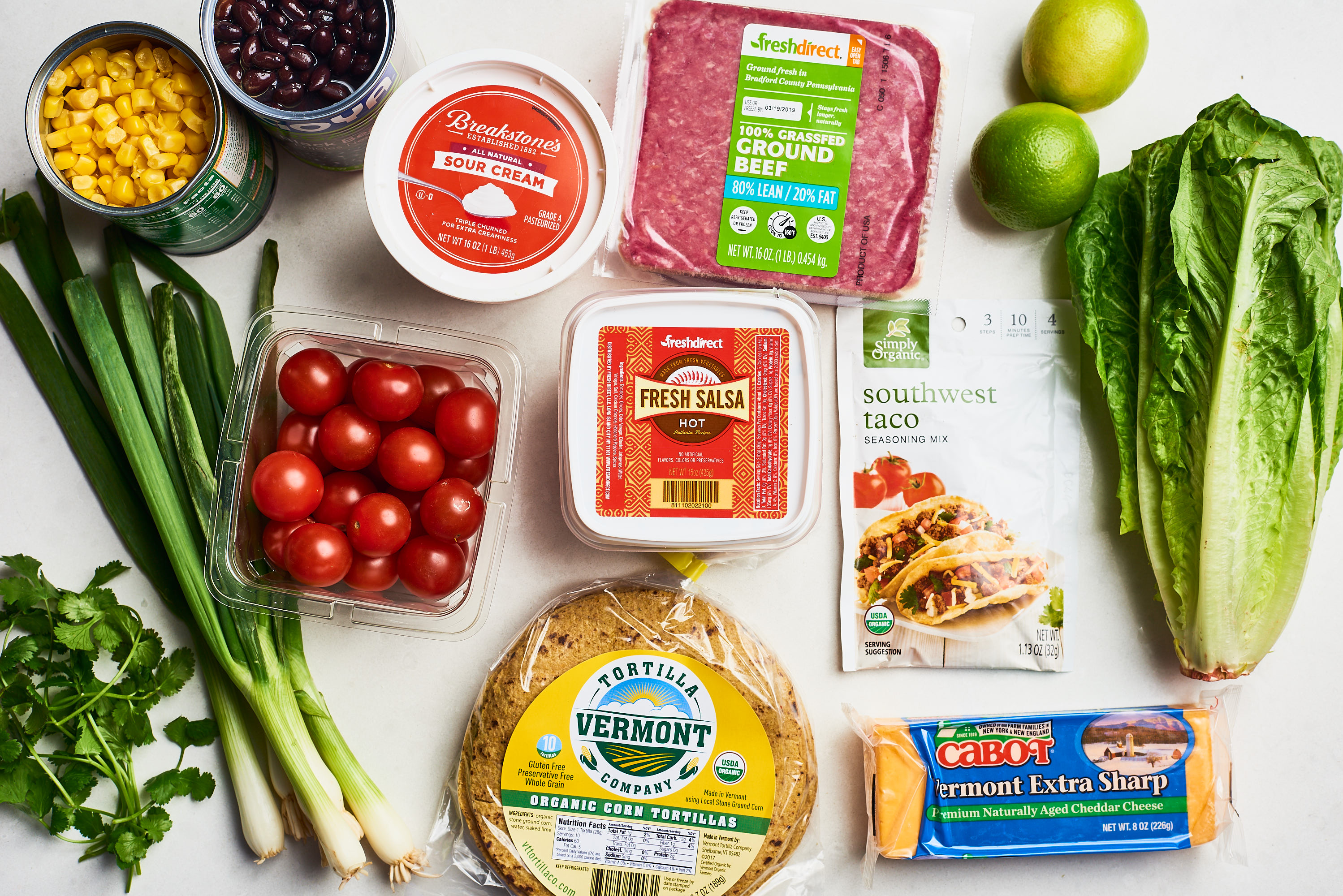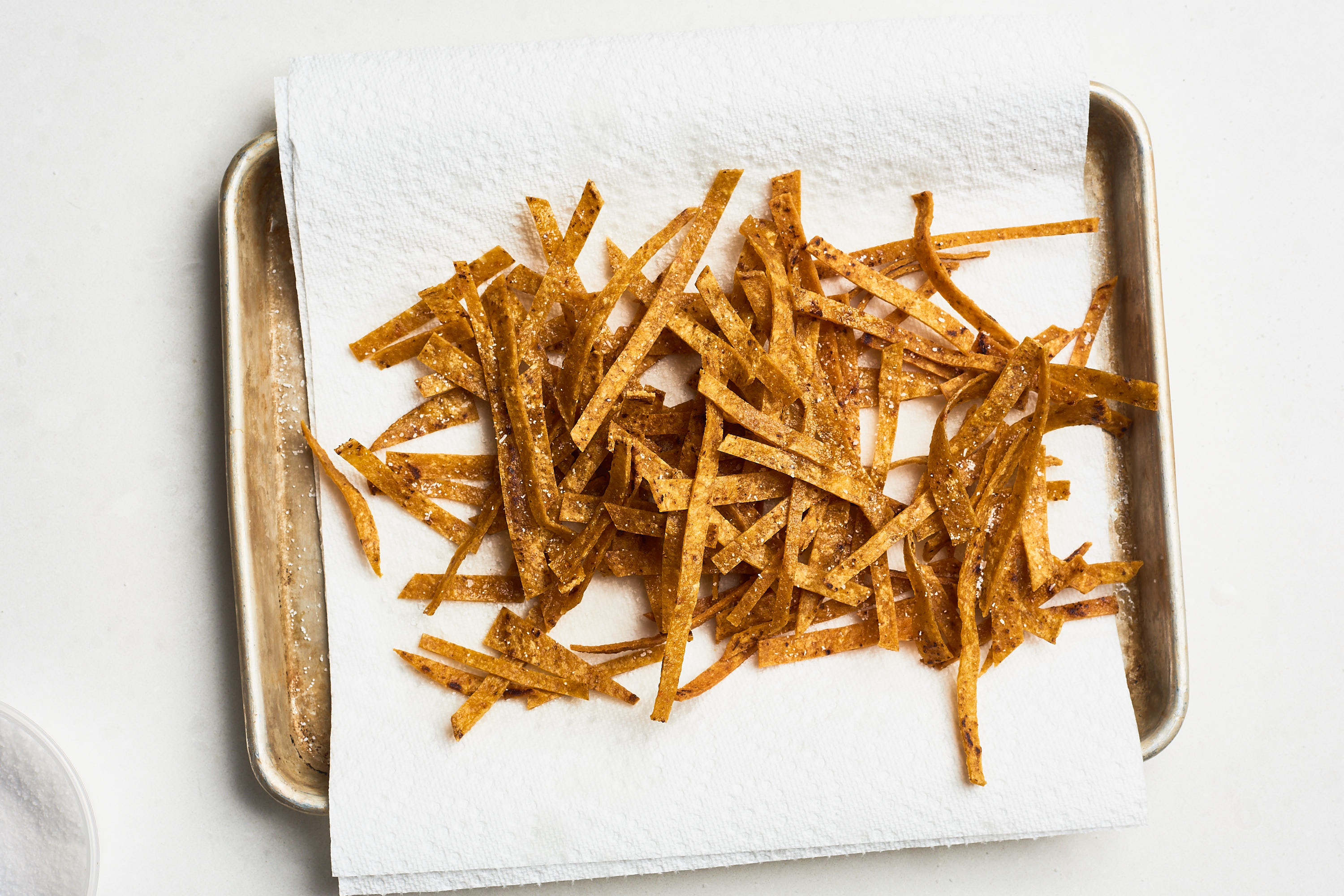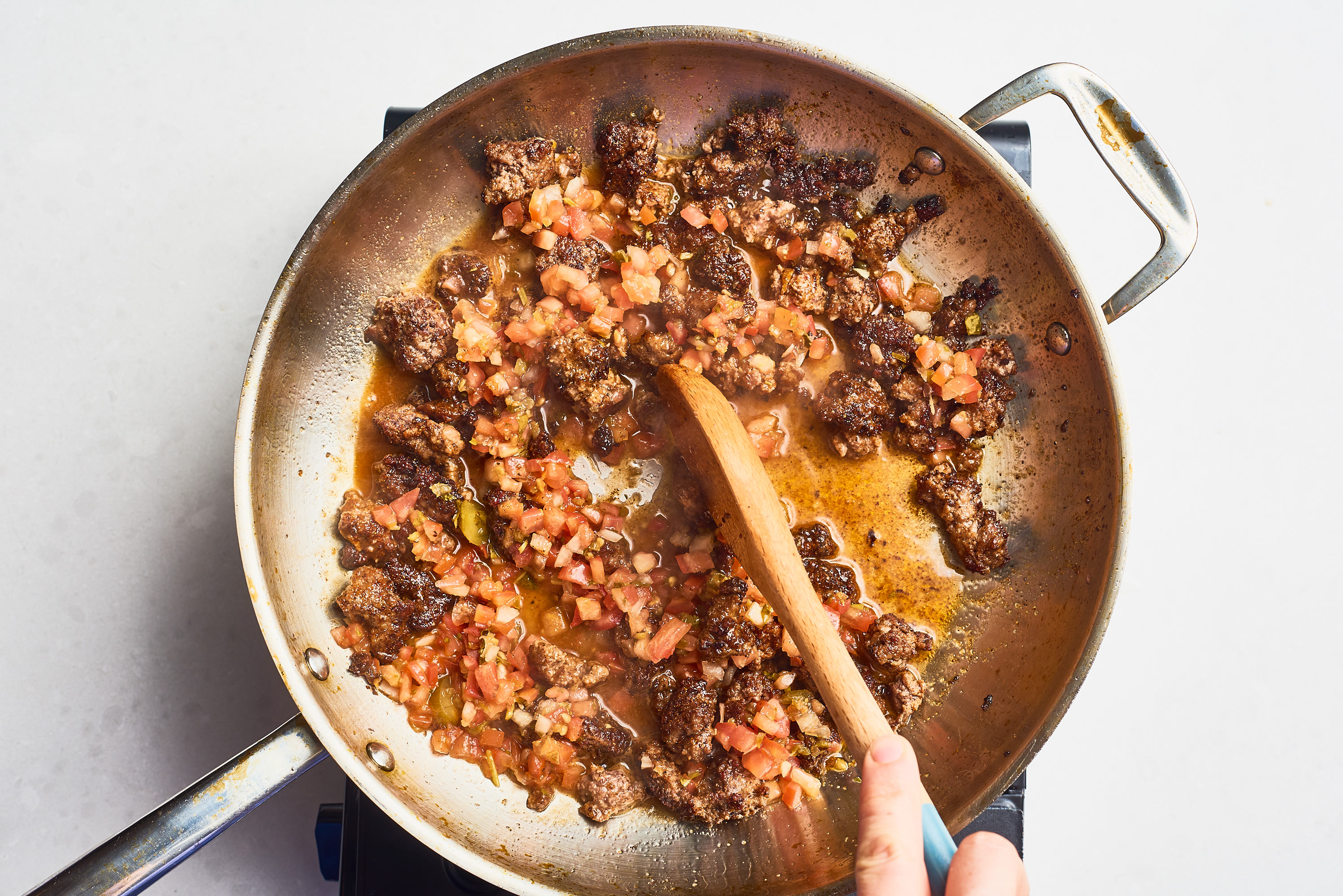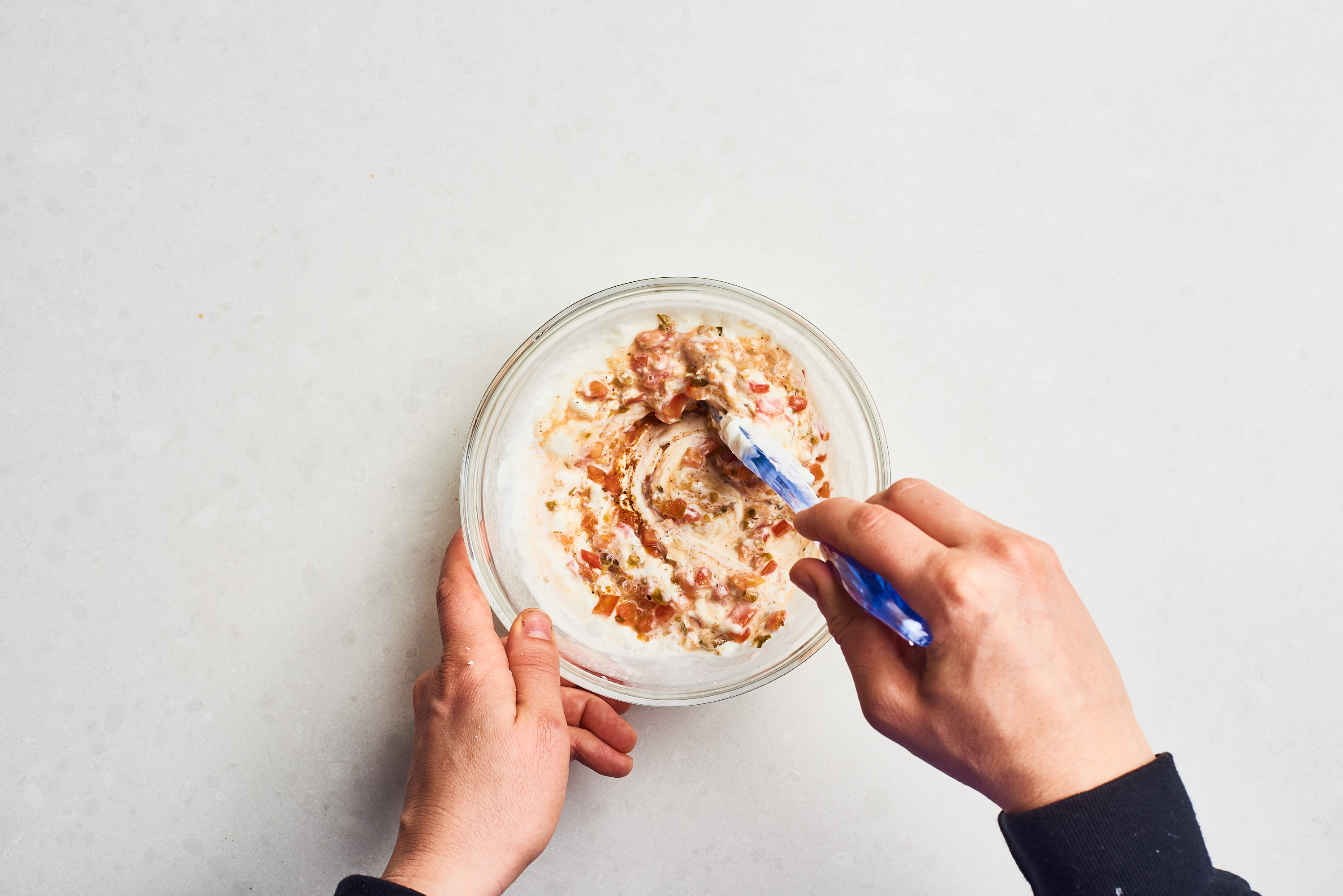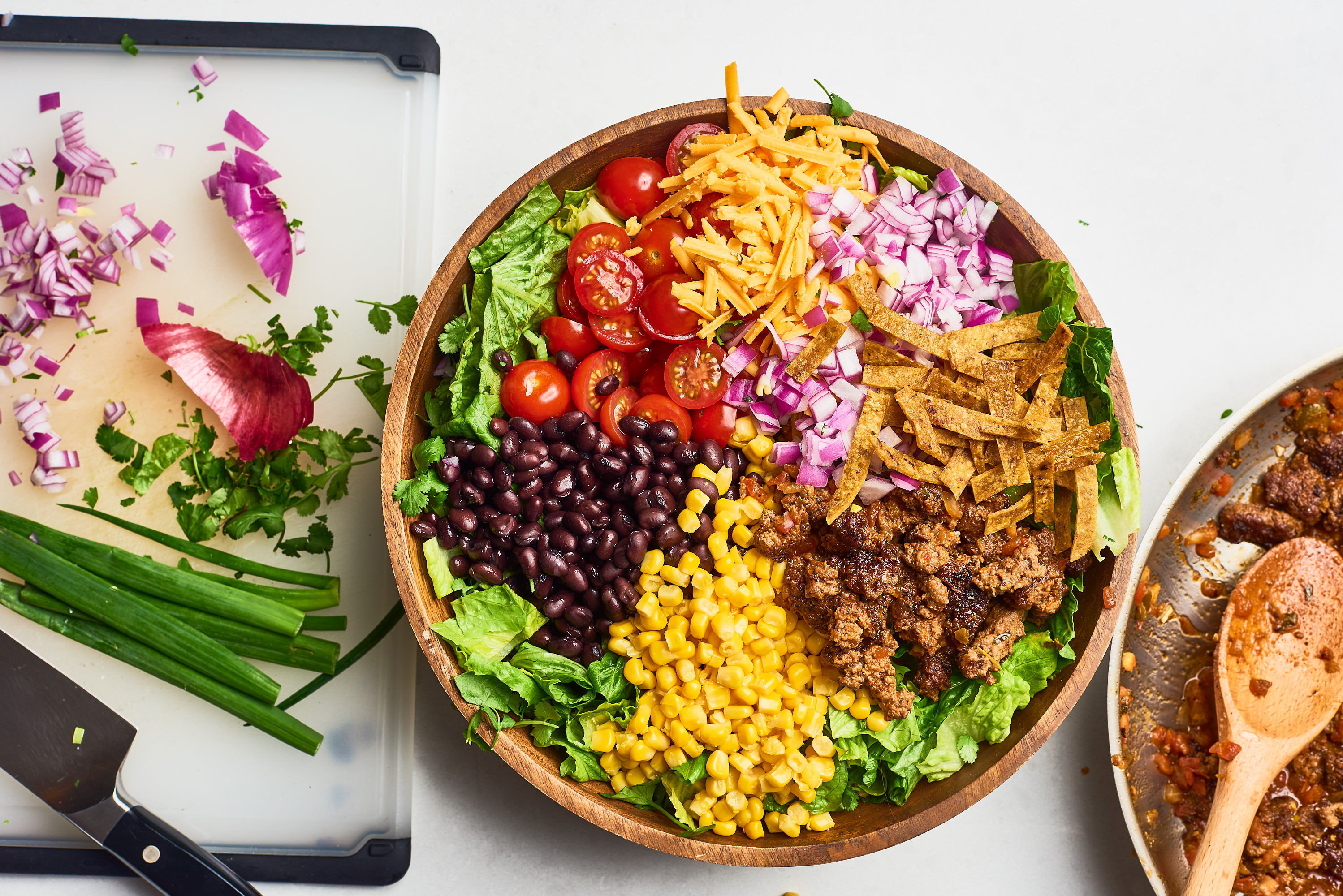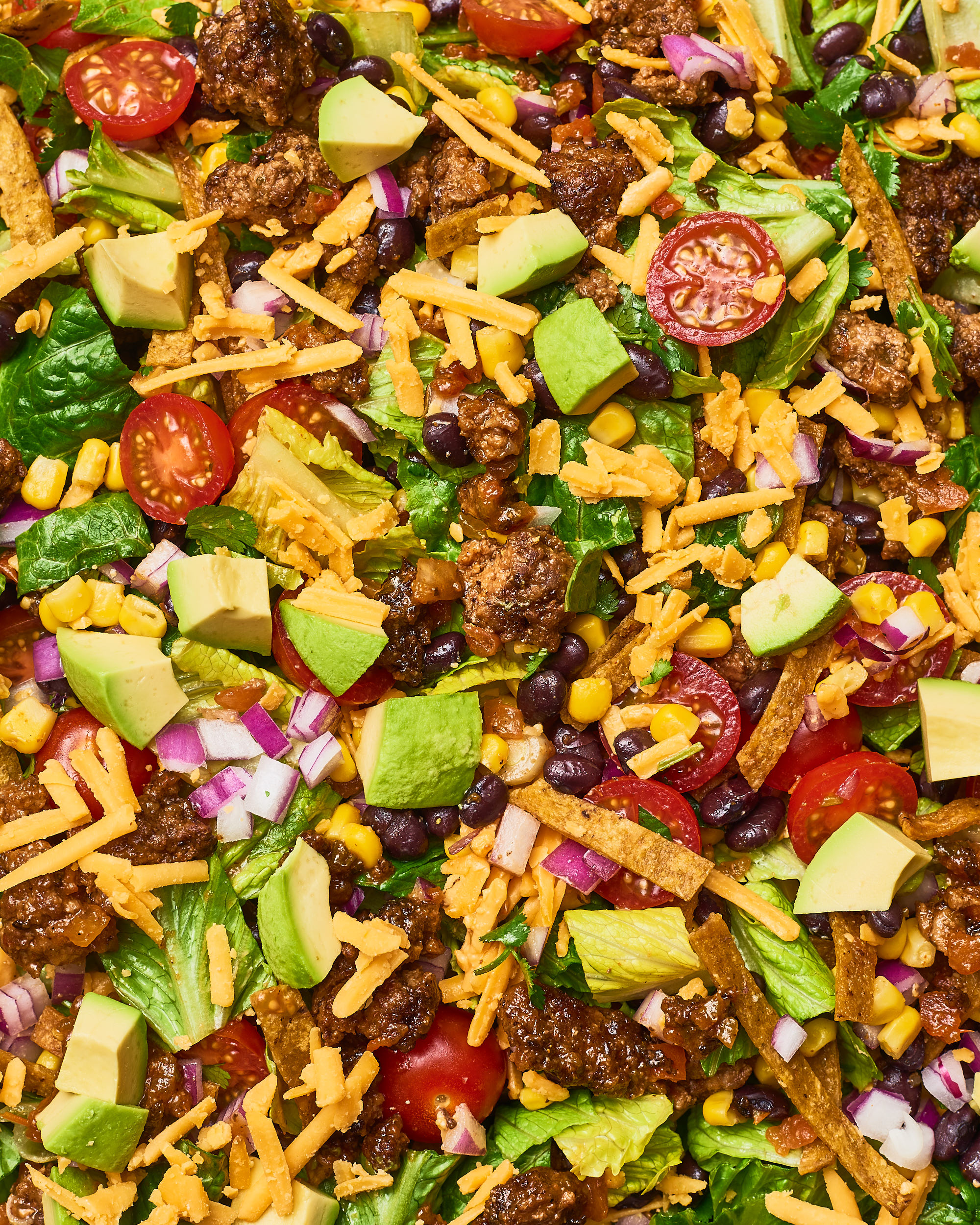 Taco Salad
Ingredients
For the crisp tortillas and beef:
1/4

cup

olive oil, for frying

3

(6-inch) corn tortillas, cut into thin strips

Kosher salt

1

pound

lean ground beef

1/4

cup

fresh tomato salsa

2

tablespoons

taco seasoning
For the dressing:
1

cup

sour cream

1/2

cup

fresh tomato salsa

2

tablespoons

freshly squeezed lime juice

1

teaspoon

taco seasoning
For the salad:
1

head

romaine, chopped, rinsed, and dried (about 6 cups)

1

cup

fresh cilantro leaves

6

medium scallions, thinly sliced, or 1 diced small red onion

1

(15-ounce) can

corn kernels, drained

1

(15-ounce) can

black beans, drained and rinsed

1

pint

cherry tomatoes, rinsed and halved

2

cups

shredded sharp cheddar cheese

1

medium avocado, diced (optional)
Equipment
Measuring cups and spoons
Chef's knife
Cutting board
Large skillet
Large mixing bowl
Instructions
Fry the tortilla strips. Heat the oil in a large skillet over medium-high heat until shimmering. Add the tortilla strips and fry, stirring occasionally, until golden-brown and crisp, 2 to 3 minutes. Remove the tortilla strips to a paper towel and sprinkle with salt.

Cook the taco beef. Drain off any excess oil from the skillet and return it to medium-high heat. Add the beef and cook, breaking the meat up into small pieces with a stiff spatula, until cooked through and starting to brown, about 8 minutes. Add the salsa and taco seasoning and cook until the liquid in the pan thickens slightly, 2 to 3 minutes more. Remove the skillet from the heat while you build the rest of the salad.

Make the dressing. Whisk all the ingredients together in a small bowl.

Build the salad. Place the romaine, cilantro, and scallions or onion in a large bowl and toss to combine. Add the corn, black beans, tomatoes, cheese, and avocado if using. Top the salad with the browned beef and tortilla strips.

Dress the salad and serve. Just before serving, add half of the dressing to the salad and use tongs to toss until well coated. Taste and add more dressing, if desired.
Recipe Notes
Make ahead: The dressing and beef can be made up to 1 day ahead and refrigerated in separate containers. Warm the beef up again before serving.
At Kitchn, we know how important it is to find recipes that are worth your time. That's why every tutorial — like this one — features recipes that have been tried and tested by our team of developers and at-home cooks from across the country. Questions or feedback for us? Say hello: [email protected].
Source: Read Full Article