Total:

40 min

Active:

40 min
Ingredients
Dipping Sauce:
1 tablespoon unsalted butter
1 tablespoon extra-virgin olive oil
1/2 small onion, finely diced (about 1/3 cup)
1 clove garlic, minced
1/4 teaspoon crushed red pepper flakes
Kosher salt and freshly ground black pepper
1/2 cup vodka
One 28-ounce can crushed tomatoes
2/3 cup heavy cream
1/2 cup freshly grated Parmesan (about 1.5 ounces)
5 fresh basil leaves, sliced into chiffonade, plus more for serving
Pasta Shells:
Kosher salt
Two 12-ounce boxes pasta shells
Canola oil, for frying
1/3 cup freshly grated Parmesan (about 1 ounce) 
Directions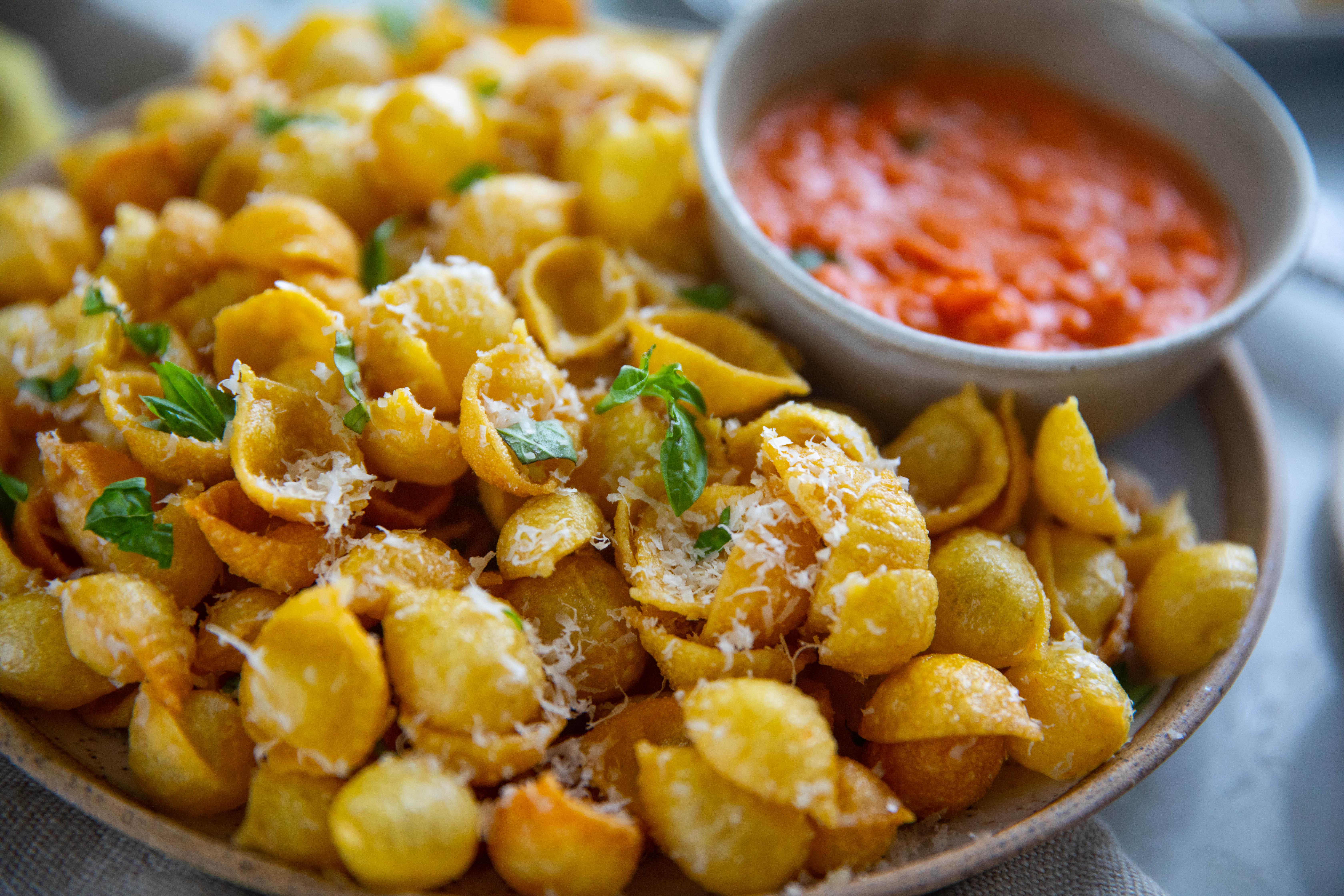 For the dipping sauce: Melt the butter with the olive oil in a large high-sided skillet over medium heat. Add the onion and cook, stirring occasionally, until slightly softened, about 3 minutes. Add the garlic, red pepper flakes and a generous pinch each of salt and black pepper and continue to cook, stirring, until fragrant, about 30 seconds. Remove the skillet from the heat and stir in the vodka and crushed tomatoes. Return the skillet to medium heat and simmer, stirring often, until all the alcohol cooks off, about 7 minutes. Add the cream and cook, stirring frequently, until the sauce thickens slightly, about 3 minutes. Stir in the Parmesan and basil. Remove from the heat and cover to keep warm.
For the pasta shells: Meanwhile, bring a large pot of salted water to a boil and cook the pasta until al dente according to the package directions. Drain in a colander, then spread the shells on a paper towel-lined baking sheet to absorb excess water.  
Add enough canola oil to come about 2 inches up the sides of a Dutch oven or a heavy-bottomed pot. Heat over medium-high heat until the oil reaches a temperature of 375 degrees F on an instant-read thermometer. Fry the pasta shells in batches, about 3 minutes each, using a spider or slotted spoon to rotate the shells halfway through. When golden brown and crisp, remove from the oil and let drain on a rimmed baking sheet fitted with a wire rack.  
Pile the fried shells on a platter and shower with the Parmesan. Serve the warm dipping sauce garnished with additional torn basil on the side.
Source: Read Full Article