Total:

55 min

Active:

25 min
Ingredients
Directions
Try this cooking class now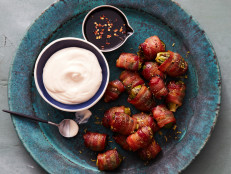 Try this cooking class now
Watch Class
Preheat the oven to 400 degrees F. Line a rimmed baking sheet with parchment paper.
Trim the stem ends from the Brussels sprouts, and halve lengthwise. Put them in a medium bowl, and toss with 1 teaspoon salt.
Lay the bacon strips next to each other on a work surface. Brush liberally with about 1/2 the maple syrup, then halve crosswise. Wrap each Brussels sprout half with 1 strip of bacon, syrup-side out, so the seam is on the flat side. Place the sprouts seam-side down on the parchment-lined rimmed baking sheet, leaving a bit of space between them. Brush them with a bit more syrup, and grind a little black pepper on top. Roast, rotating the baking sheet halfway through, until the bacon is crisp and the sprouts are tender when pierced with the tip of a knife, about 30 minutes.
Meanwhile, mix the mayonnaise, most of the lemon zest and all the lemon juice in a small serving dish. Sprinkle the remaining lemon zest on top. Put about 1/2 cup maple syrup in a second small serving dish, and stir in as much black pepper and crushed red pepper flakes as you like.
Transfer the sprouts to a platter, and serve with the lemon mayonnaise and peppered maple syrup, for dipping.
Source: Read Full Article