Total:

1 hr 30 min

Active:

45 min
Ingredients
Alfredo Sauce:
6 strips thick-cut bacon, diced
3 cloves garlic, minced
1 large leek (about 10 ounces), white and light green parts, thinly sliced
2 1/2 cups half-and-half
1/2 cup freshly grated Parmesan
Pinch crushed red pepper flakes
Juice of 1/2 lemon
4 ounces cream cheese, at room temperature 
1/2 cup fresh parsley leaves, chopped, plus more for garnish
Kosher salt and freshly ground black pepper 
Filling:
One 10-ounce box frozen chopped spinach, thawed and drained
2 1/2 cups ricotta cheese (about 1 pound) 
1 cup diced rotisserie chicken
3/4 cup shredded Italian blend cheese 
Pinch crushed red pepper flakes
Juice of 1/2 lemon
Kosher salt and freshly ground black pepper 
Pasta:
One 8-ounce box manicotti
1/2 cup shredded Italian blend cheese
Directions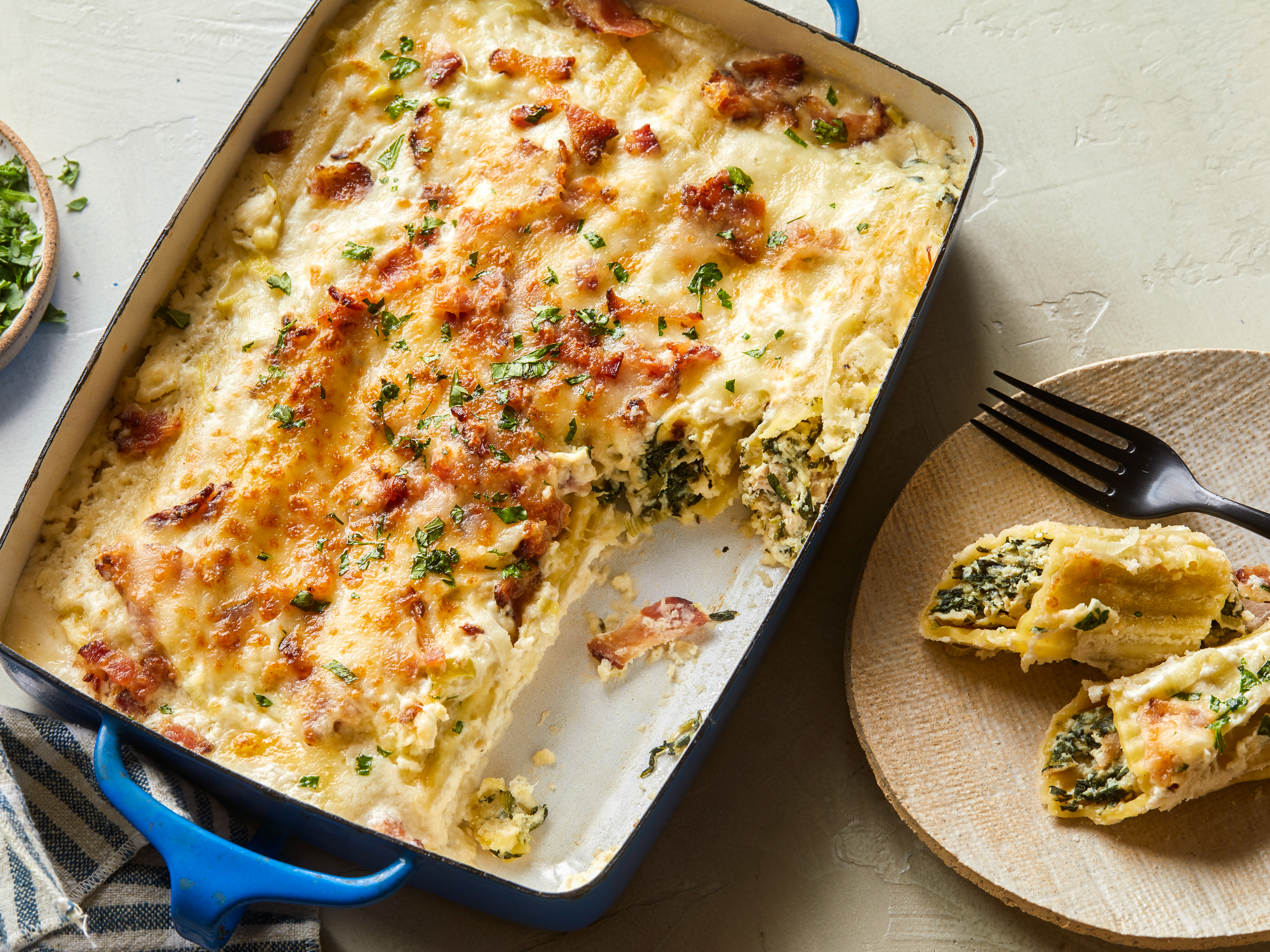 Special equipment:
Preheat the oven to 350 degrees F.
For the Alfredo sauce: Cook the bacon in a large skillet over medium-high heat until crisp and brown, 7 to 8 minutes. Transfer to a paper towel-lined plate and reserve. 
Add the garlic and leeks to the skillet with the remaining bacon fat and cook until translucent, about 2 minutes. Add the half-and-half, Parmesan, crushed red pepper and lemon juice and bring to a simmer. Add the cream cheese and cook until the sauce is thickened and the cheese is melted and fully incorporated, about 5 minutes. Remove from the heat, stir in the parsley and season with salt and black pepper.
For the filling: Add the spinach, ricotta, chicken, Italian blend cheese, crushed red pepper, lemon juice, 1 teaspoon salt and a few grinds of black pepper to a large bowl and mix until fully combined. Transfer the mixture to a large disposable piping bag (or resealable plastic bag) and snip a large hole at the end of the bag.
For the pasta: Spoon 1 cup of the sauce on the bottom of a flameproof (not glass) 9-by-13-inch baking dish. Pipe the filling into both ends of the uncooked manicotti shells until filled and arrange them in the baking dish. Top with the remaining sauce, reserved bacon and Italian blend cheese. Cover with foil and bake until the sauce is bubbly and the pasta is cooked, 30 to 40 minutes. 
Remove the baking dish from the oven and remove the foil. Turn the oven to broil. Broil until the top is golden brown, 3 to 4 minutes. Sprinkle with more chopped parsley.
Source: Read Full Article