Level:

Easy

Total:

1 hr 30 min
Ingredients
2 chicken breasts
Kosher salt and freshly ground black pepper
Kosher salt and freshly ground black pepper 
1/2 cup olive oil
Mole:
5 dried pasilla or anocho chiles, stemmed and seeded
1 1/2 cups hot water
2 (6-inch) corn tortillas, or handful regular tortilla chips
2 tablespoons olive oil
1 1/2 medium onions, chopped
Kosher salt
2 garlic cloves, minced
2 tablespoons smooth peanut butter
1 teaspoon dried oregano
1 3/4 cups chicken stock
One 3.1-ounce disk Mexican chocolate, chopped, (recommended: Ibarra*)
Freshly ground black pepper 
Enchiladas:
Olive oil, as needed
Twelve 6-inch corn tortillas, warmed 
1/4 cup sour cream
3/4 cup queso fresco or mild Feta
Directions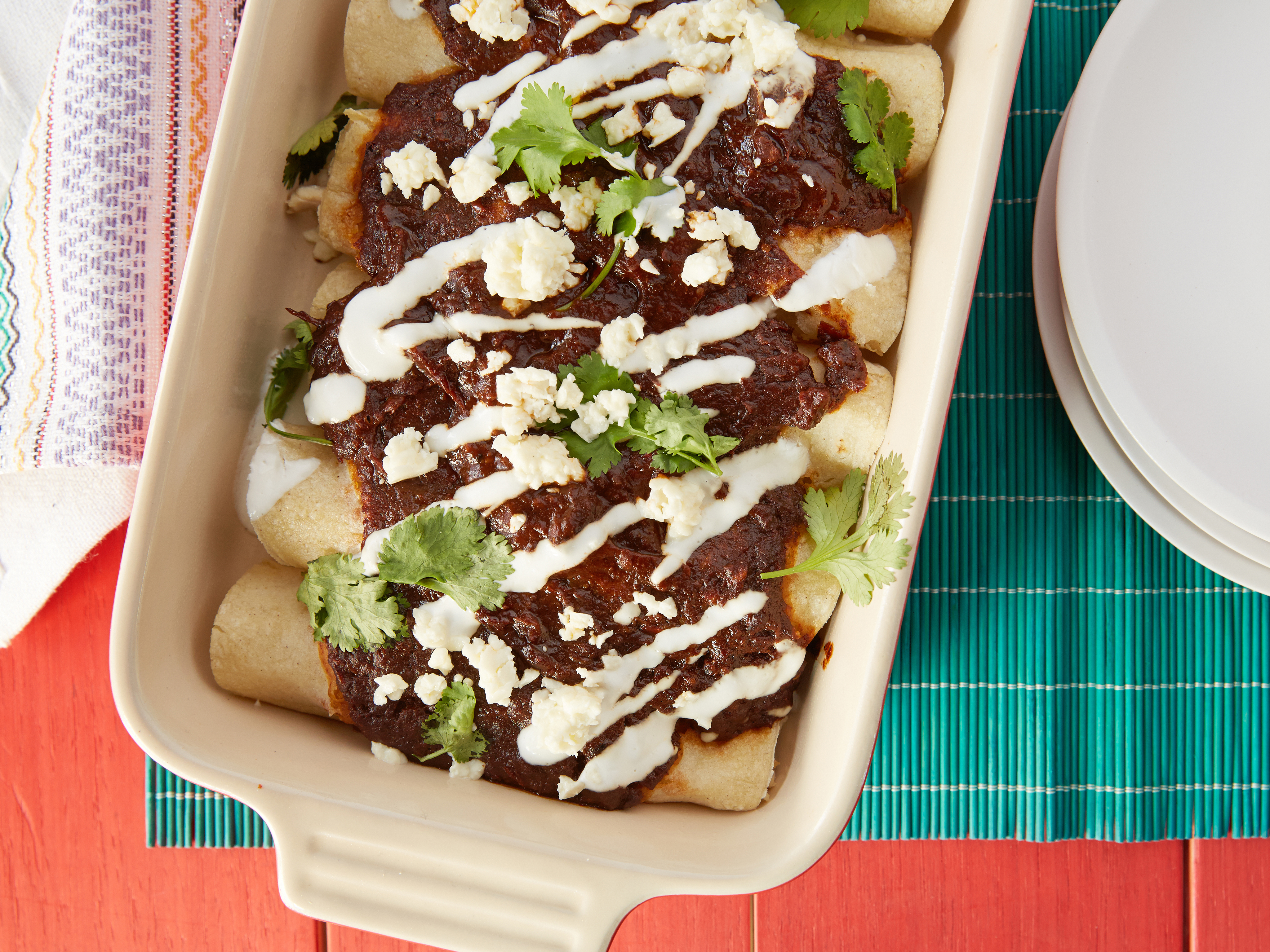 For the chicken: Preheat the oven to 375 degrees F. On a baking sheet, sprinkle the chicken with salt and pepper and drizzle with the olive oil. Bake until cooked through, 10 to 15 minutes. Set aside to cool, then shred into small bite-sized pieces. 
For the mole: Reconstitute the dried chiles by soaking them in 1 1/2 cups hot water for 15 minutes. Then drain and set aside. Toast the corn tortillas in a dry skillet until dry, crisp and golden. Tear into pieces and set aside. In the same skillet, heat the oil over medium heat. Add the onions, season with a little salt and saute until translucent, about 3 minutes. Then add the garlic and cook 2 minutes more. Transfer the onion and garlic mixture to a blender with the chiles, tortillas, peanut butter and oregano. Pour the chicken stock over and blend until very smooth. Then transfer the sauce to a medium saute pan and bring to a boil over high heat. Reduce the heat to medium, cover and simmer 20 minutes. Stir in the chocolate. Season the mole with salt and pepper. Reserve 1 cup of mole for garnishing the enchiladas, the rest will be used for dipping the tortillas. 
To assemble the enchiladas: Fill a medium saute pan half way with oil over high heat. When the oil is hot, dip 1 tortilla at a time and fry just until soft and heated through, a few seconds. Lift out, let the excess oil drip off and then dip the fried tortilla directly into the warm mole (which should be right next to the pan for easy dipping) and transfer to a plate. Working quickly, put 1/3 cup of the shredded chicken in the center, being careful not to over fill. Roll the tortilla like a cigar to enclose the filling and place in a serving dish seam- side down. Continue to fill all of the tortillas and place them side-by- side. Pour the reserved mole over the top. (This recipe can be tightly wrapped and frozen for 3 weeks at this stage. To reheat: Preheat oven to 350degrees F, unwrap and bake until sauce is bubbly and enchiladas are heated through, about 20 to 25 minutes.) To serve, drizzle with a little sour cream and sprinkle with queso.
Cook's Note
Queso Fresco is a white, mild, fresh Mexican cheese with the texture of fresh farmer's cheese in the US. Queso fresco can be found in many supermarkets, or can also substituted with a mild feta cheese. The pasilla is a Mexican dried chile, also known as "ancho" or "chile negro" in the U.S. It is often used in moles and other Mexican sauces. It also can be sold as a fresh chile in the U.S. similar to the poblano. They can be found at most supermarkets, Latin specialty markets or online. Ibarra chocolate is a brand of Mexican chocolate that can be purchased in most national supermarkets. If you cannot find Ibarra or any Mexican chocolate, you can substitute one ounce of Mexican chocolate for: 1 ounce of semi-sweet chocolate, 1/2 teaspoon ground cinnamon and one drop of almond extract.
Source: Read Full Article