Total:

4 hr

(includes rising and cooling times)

Active:

30 min
Ingredients
Directions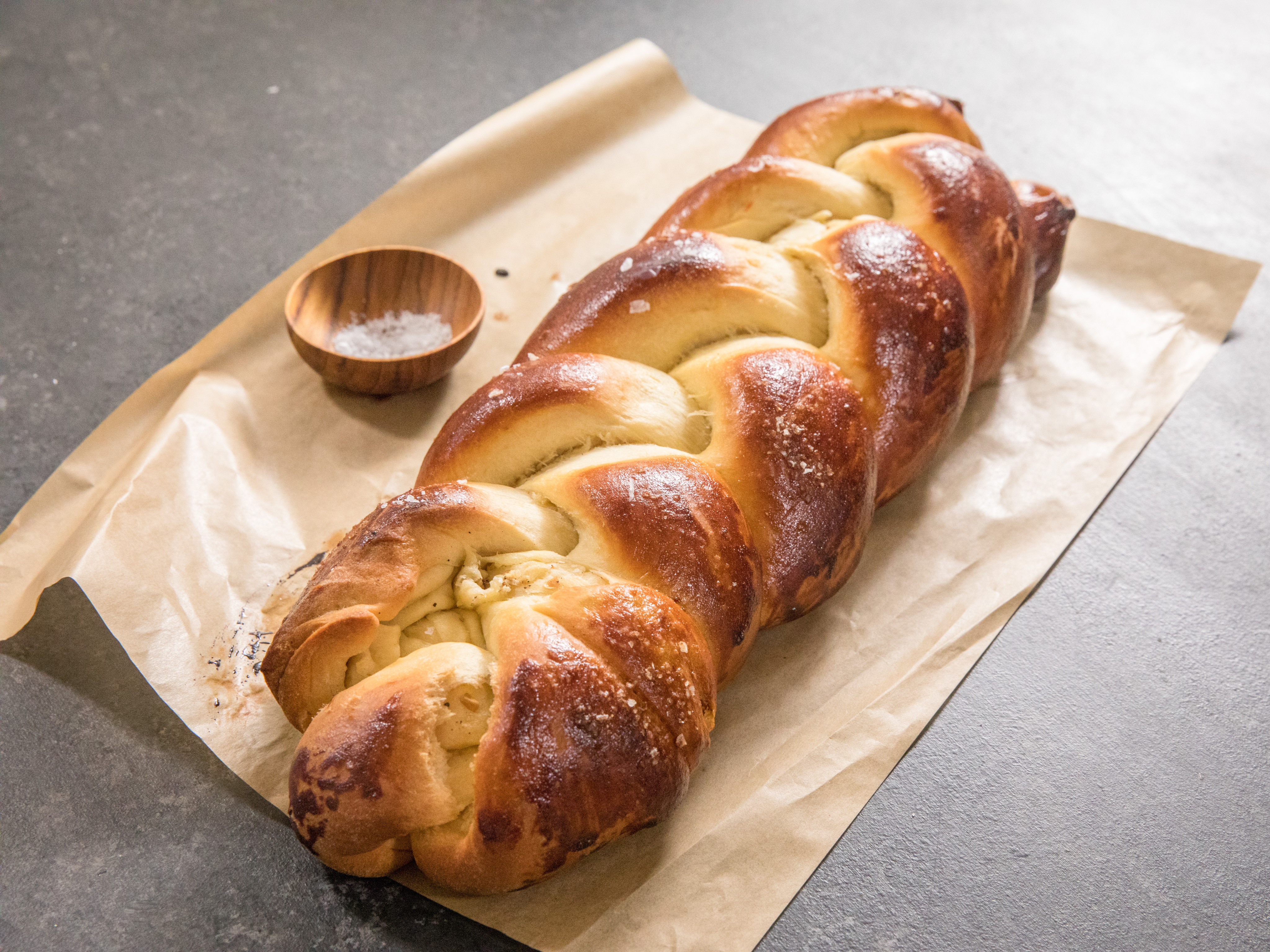 In a medium bowl, combine the yeast, warm water and 1 teaspoon of the sugar and give it a little stir. Let it sit for about 5 minutes, until it becomes foamy on top.
Meanwhile, in a large bowl or the bowl of stand mixer fitted with a dough hook, mix together the flour, kosher salt and remaining 1/4 cup sugar. In a separate medium bowl, whisk together the oil and 4 of the eggs.
When the yeast is foamy, add it to the dry mixture immediately followed by the egg mixture and stir to combine. Knead, either by hand on a floured surface or with a dough hook, adding more white flour as necessary (but resist any urge to add too much!), until you have a smooth and slightly sticky dough, 7 to 10 minutes.
Transfer the dough to an oiled bowl, cover it with plastic wrap and let it sit at room temperature until it has doubled in size, about 2 hours. It will take slightly longer if you're using whole wheat flour. Alternatively, you can stick it in the refrigerator overnight and then let it sit at room temperature for about an hour before shaping.
Line a baking sheet with parchment paper. Divide the dough into 6 pieces. Roll out each piece into a large strip, 1/2 to 1/4 inch thick and about 3 inches wide. Brush down each center with melted butter. Down the center, add the chopped onions and garlic. Roll each piece to seal in the onion mixture. Braid 3 of the pieces together, tucking the ends underneath to seal. Repeat with the remaining 3 pieces to make a second loaf. Place on the lined baking sheet and cover loosely with plastic wrap. Allow to rest for 30 minutes.
Preheat the oven to 350 degrees F.
Whisk together the honey and remaining egg in a small bowl. Brush the bread top with the mixture and sprinkle with flaky salt.
Bake until golden brown and not doughy in the center, about 35 minutes, but start checking at 28 minutes. Allow to cool slightly before serving.
Source: Read Full Article