Total:

2 hr

(includes chilling and cooling times)

Active:

25 min
Ingredients
Directions
Try this cooking class now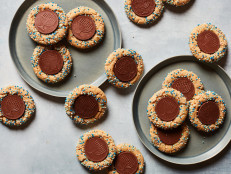 Try this cooking class now
Watch Class
Whisk together the flour, baking soda and salt in a medium bowl until combined.
Add the butter, granulated sugar and brown sugar to the bowl of a stand mixer fitted with the paddle attachment. Beat on medium-high speed until pale and fluffy, about 5 minutes. Add the peanut butter and continue beating until fluffy, about 1 minute. Add the vanilla and egg and beat until combined. With the mixer on low speed, gradually add the dry ingredients and mix until combined. Cover with plastic wrap and refrigerate for at least 1 hour and up to overnight. 
Position an oven rack in the center of the oven and preheat to 350 degrees F. Lightly grease a baking sheet with nonstick spray. Put the blue and white nonpareils in a medium bowl. 
Scoop the dough using a 3/4-ounce scoop (about 1 1/2 tablespoons) and roll the dough into a ball. Continue scooping and rolling until you've used up about half the dough. Roll each ball in the sprinkles and place on the prepared baking sheet about 2 inches apart. Chill the remaining dough while the first batch bakes.  
Bake, rotating the baking sheet halfway through, until the cookies are puffed and lightly golden, about 12 minutes. Immediately press a chocolate gelt into the center of each cookie. Let cool 10 minutes on the baking sheet, then transfer to wire racks to cool completely. When the baking sheet is cool, spray again with nonstick spray and repeat with the remaining dough, sprinkles and chocolate gelt. 
Cook's Note
When measuring flour, we spoon it into a dry measuring cup and level off excess. (Scooping directly from the bag compacts the flour, resulting in dry baked goods.) Use regular creamy commercial-style peanut butter in this recipe and not the "natural" variety. We like the sweetness and texture it provides. Hanukkah sprinkle mixes, labeled as such, are often found during the holiday season. Or mix up your own blend of blue and white.
Source: Read Full Article