By now, you've seen me do 8 meals for 2 people on $25 and eating for a whole week on just $35. From all corners of the world, viewers have written in to request even more budget eats—to which I say, your wish is my command.
Julia and I looked through the thousands of comments left on those videos and found multiple requests for vegan-friendly ideas, which is exactly what I set out to do this time around: For just $25, it was my goal to feed Aaron and me as many vegan meals as possible. To make it even more exciting, I decided to also make the entire week gluten-free.
The haul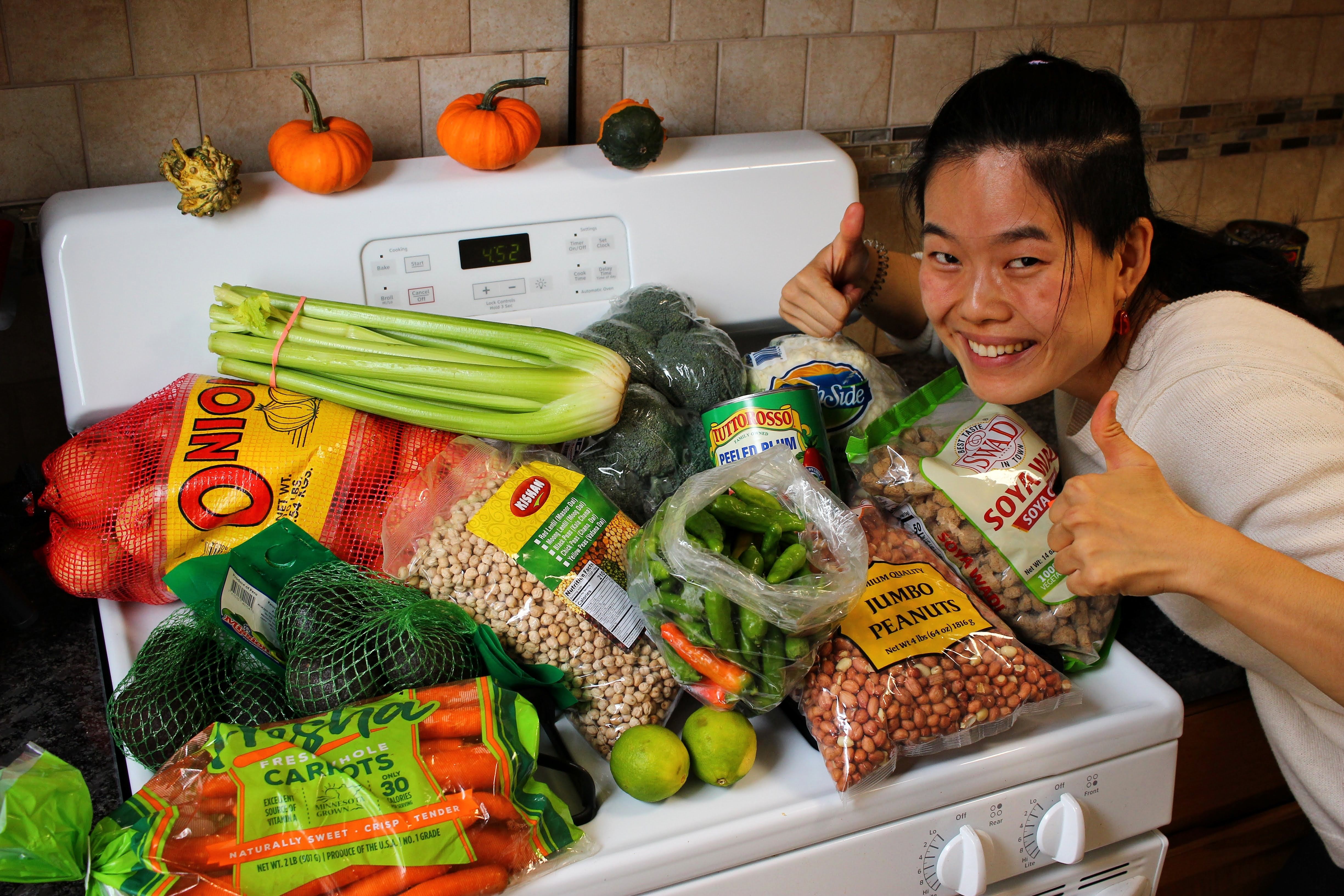 For $25, I really hit the jackpot this time around. On a particularly lovely weekend, I took a walk into Jackson Heights, Queens, where I bought 10 pounds of onions for $2.19, 4 pounds of dried chickpeas for $3.49, heads of broccoli and cauliflower for a buck each—a price point I haven't seen since my high school days. I even found bags of 4 avocados for $1 each, and being greedy, I bought 2 bags—a decision I would come to regret later on in the week.
To add a little fat and meatiness to the week, I bought 4 pounds of raw skin-on peanuts for $6.99 and a bag of "soy chunks" for just $1.99. The latter purchase has since become my favorite new-to-me ingredient of this year.
Vegan, gluten-free experimentation
To extract the most out of my ingredients, I collected veggie scraps to make a super concentrated veggie broth. To make up for the lack of wheat flour but still produce items like pizza crust, tortillas, gnocchi, and crepes, I turned half of my dried chickpeas into a fine chickpea flour in a high-speed blender to use as a all-purpose flour substitute. I roasted some of the peanuts and ground some into peanut butter; I soaked the rest for turning into peanut "milk" and peanut "ricotta."
While there are more limitations to what foods I could eat on a purely plant-based diet, a little imagination and experimentation went a long way to help me use familiar ingredients in less familiar ways.
The winning recipes
Soy "Chorizo" Chickpea Flour Tacos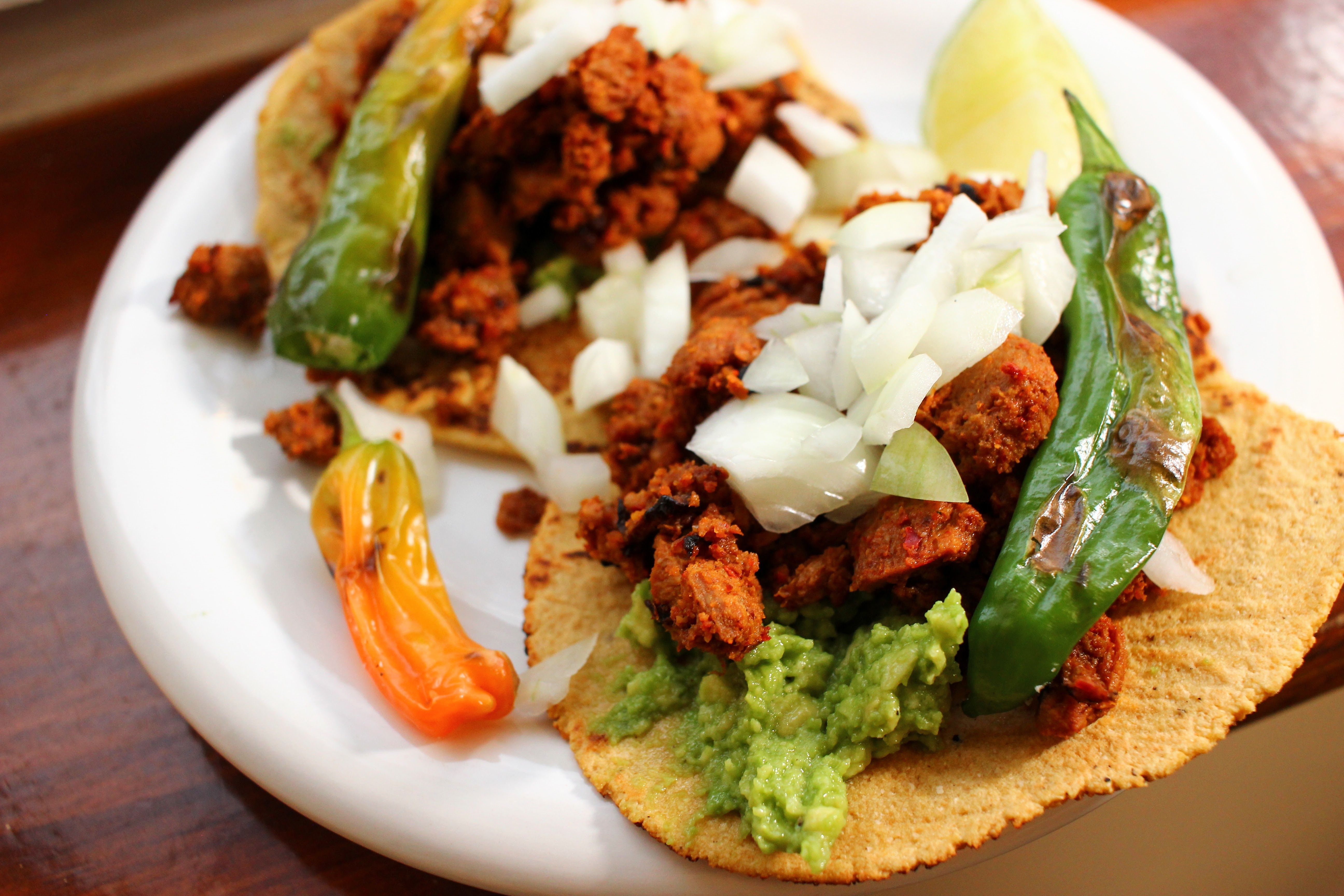 For the chickpea tortillas
1 ⅓ c. chickpea flour (186 g.)
1 tsp. kosher or black salt
¾ c. water (186 g.)
For the soy chorizo
3 tbsp. ketchup
2 tbsp. tamari or soy sauce
1 tbsp. vinegar
1 tsp. black salt
½ tsp. MSG
1 tsp. ground chili pepper
½ tsp. freshly ground black pepper
½ tsp. Trader Joe's multipurpose umami seasoning
1 tsp. ground cumin
¼ tsp. smoked paprika
2 c. rehydrated coarsely ground soya chunks
1 tbsp. grapeseed oil
½ medium onion, minced
¼ c. coarsely ground peanuts
For the guacamole
1 avocado
Kosher salt
Freshly ground black pepper
1 tbsp. vinegar or lime juice
For topping
Lime wedges
Diced onions
Blistered shishito peppers
Make the tortilla dough: In a medium bowl, mix together flour, salt, and water and knead until a cohesive dough forms. Cover and set aside for 30 minutes to 1 hour.
Make the chorizo: In a large bowl, combine ketchup, tamari, vinegar, salts, and spices. Add in soya chunks and toss until all liquid is absorbed. Let stand 10 minutes for flavors to distribute.
In a large skillet over medium heat, heat oil. Add in onion and cook until softened and slightly golden, about 5 minutes. Add in marinated chorizo and peanuts and cook until mixture deepens in color and in fragrance, about 5 minutes more.
Make the guacamole: In a small bowl, combine all ingredients and mash with a fork until mostly smooth.
Make the tortillas: Heat a lightly-oiled large skillet over medium heat. Divide dough into 10 balls. Between two pieces of parchment paper, flatten each dough ball and roll out to about ⅛"-thick rounds. Gently peel off the papers and place the tortilla into the hot skillet and let cook 1 to 2 minutes per side, until deeply-golden spots develop. Transfer to a plate and cover with a damp towel. Repeat with remaining dough.
Assemble the tacos: Place 1 tablespoon of guacamole and 3 tablespoons of chorizo mixture into each tortilla, then top with diced onions and serve with a lime wedge and blistered shishito peppers.

---

Veggie-Stuffed Brown Rice Burgers


For rice patty "dough"
1 tbsp. extra-virgin olive oil, plus more for pan
2 c. cooked brown Jasmine rice
2 tsp. your choice of spices
½ tsp. kosher salt
Freshly ground black pepper
For the veggie filling
1 c. roasted broccoli
⅓ c. roasted carrots
⅓ c. roasted onions
1 tsp. black salt
1 tsp. turmeric seasoning blend
1 tsp. toasted cumin seed
½ tsp. toasted fennel seed
½ tsp. ground coriander
¼c. minced yellow onion
1 c. cooked chickpeas
For the spicy peanut sauce
¼ c. peanut butter
2 tbsp. cold water
3 tbsp. sriracha
Make the rice patty dough: In a high-power blender or food processor, add all ingredients and blend until smooth and tacky. Transfer to a bowl and divide into 8 pieces. With hands dampened with water, flatten each piece of dough into a 4″ round. Set aside.
Make the veggie filling: In a high-power blender or food processor, add broccoli, carrots, roasted onions, and spices and blend until finely minced. Transfer mixture to a bowl and fold in minced onions and chickpeas.
Make the spicy peanut sauce: In a small bowl, whisk all ingredients together until smooth.
Make the burger patties: Take one piece of flattened dough and place two heaping tablespoons of veggie filling in the center of the dough, leaving a ½" border around the circumference of the round. Place another piece of flattened dough on top and press the two rounds together to seal the burger. Gently flatten the center of the patty to shape into an even patty.
In a large skillet over medium heat, heat 1 teaspoon of oil. Place two patties into the skillet spaced 2″ apart, and cook until a deeply golden crust appears. Flip patties and continue cooking on the other side until deeply golden. Repeat with 1 more teaspoon of oil and remaining patties.
Serve patties with spicy peanut sauce.

---

French Onion Soyaballs


For the soyaballs
2 c. soya chunks
¼ c. homemade vegetable broth
¼ c. roasted veggies
¼ c. diced raw onions
¼ c. chickpea flour
½ tsp. Trader Joe's multipurpose umami seasoning
½ tsp. turmeric seasoning blend
2 tbsp. tamari or soy sauce
2 tbsp. ketchup
1 tbsp. Sriracha
1 tbsp. sambal olek
1 tbsp. extra-virgin olive oil, plus more for pan
For the French onion soup
2 c. caramelized onions
2 c. homemade vegetable broth
1 c. homemade peanut milk
1 tsp. thyme leaves
1 tsp. freshly ground black pepper
Make the meatballs: In a large bowl, soak soya chunks with boiling water until half softened, then drain completely. Once cool enough to handle, squeeze out all remaining water from soya chunks.
In a high-power blender or food process, combine all ingredients and pulse until soya chunks are minced and mixture is cohesive once squeezed. Transfer to a bowl, then shape into 1 ½" balls, pressing with both hands to compress.
In a large skillet over medium-low heat, heat 1 tablespoon oil. Cooking in two batches, place half the soyaballs 1″ apart in the skillet. Cook until a golden crust forms, carefully flipping every minute to get an even sear. Transfer to a plate, and repeat with 1 more tablespoon oil and remaining soyaballs.
Make the French onion soup: In a large pot over medium heat, combine all soup ingredients and cook until mixture is creamy and silky, about 12 minutes. Add more broth as needed if a soupier consistency is desired.
Serve soyaballs on top of soup.

For even more recipe ideas, watch the video to see the other 7 recipes I made, including this sad excuse for pizza.

Source: Read Full Article