If you enjoyed watching me churn out a week's worth of meals on $35, I think you'll like my latest adventure: feeding two people eight dinner-worthy meals on just $25. Thankfully, eggs were cheaper this time around, which gave me a chance to buy some more vegetables—I heard they're important for a balanced diet?
I also bought a pack of chicken legs, which I managed to stretch across 4 dinners. I ran around to three stores before I found a budget-friendly deal: skin-on, bone-in chicken legs at just 69¢ per pound. To get the most bang out of my $2.78 package, I de-boned the legs, using the meat for meatballs, curry, and dumplings, and boiling the bones for stock. I also rendered the fat from the chicken skin and used it as both cooking oil and the base of the most delicious chili oil I've ever made.
Not all of the meals were absolute winners. To my surprise, the old adage of "less is more" held up well all week: the more effort I put into a meal, the more it tended to disappoint. My theory? More effort = higher expectations. Higher expectations = lower satisfaction. The solution is to simply not try so hard. It was a good reminder to take it easy on myself: the path of least resistance was the road I needed to be on all along. Perfection turns up when you're not looking for it. Or, in the words of my high school global history teacher, "KISS. Keep It Simple, Stupid." Yes, sir.
Without further ado, here are my favorite recipes from this week of budget eats.
The winning recipes
Schmaltzy Chili Oil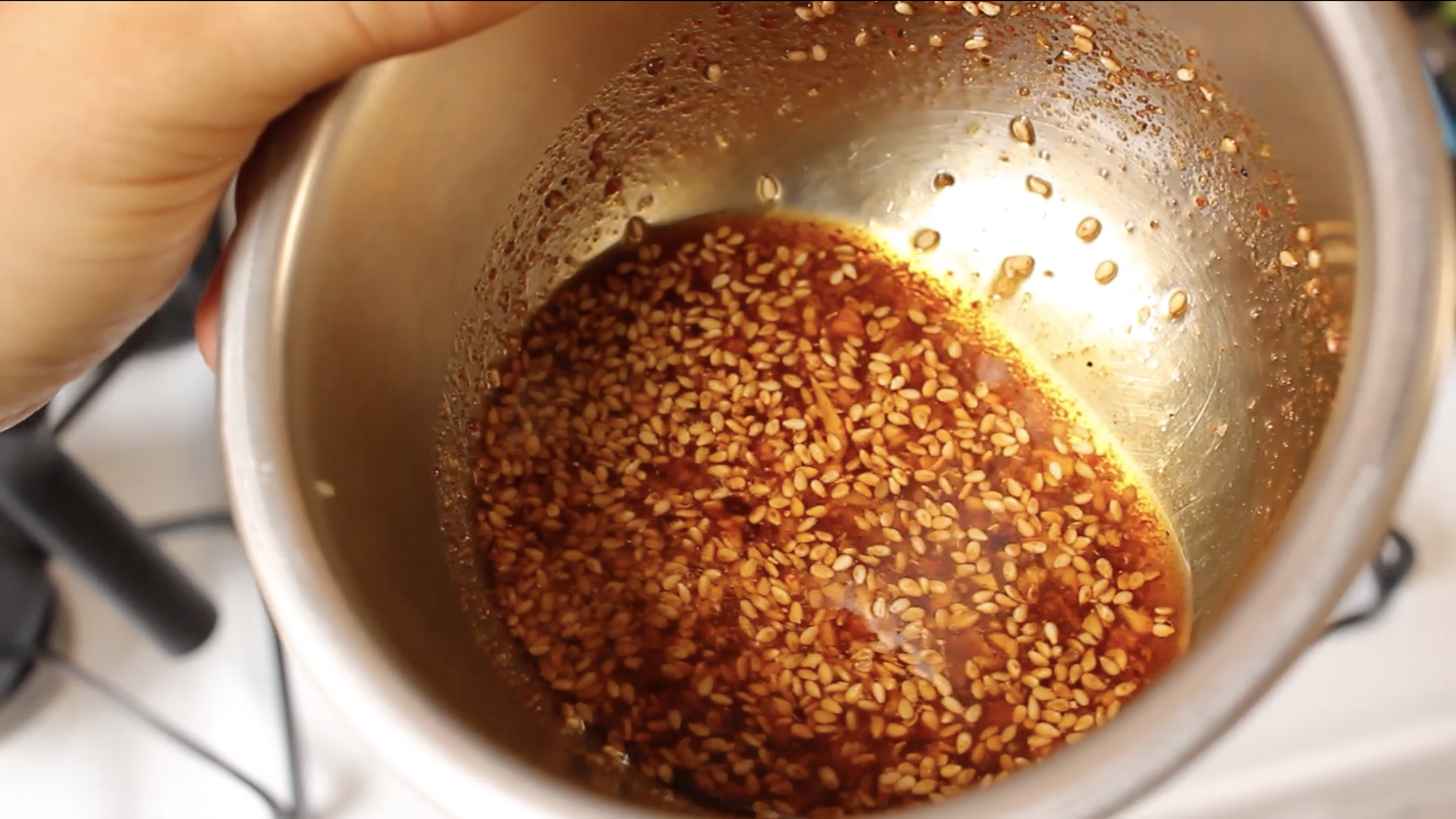 ½ c. chicken fat
1″ piece ginger, minced
3 cloves garlic, grated
3 tbsp. ground chilis
2 tsp. ground Sichuan peppercorns
1 tbsp. sesame seeds
½ tsp. MSG
Kosher salt
In a small pot, heat chicken fat until liquified and starting to smoke. In a medium heatproof bowl, combine all other ingredients. Slowly pour schmaltz into the bowl, letting it sizzle through all of the spices. Whisk to incorporate fully and let cool completely.

---

Garlicky Smashed Cucumbers
6 Persian cucumbers
3 cloves garlic, grated
2 tbsp. spicy chili oil
1 tbsp. toasted sesame oil
½ tsp. MSG
Kosher salt
Cut each cucumber into three pieces, then use the flat size of your knife to smash each piece into two craggy halves. In a large bowl, toss smashed cucumbers with chili oil, sesame oil, and MSG until evenly combined, then season with salt to taste.

---

Scallion Pancake Roux


Add this roux to any of your pan-fried flatbreads for extra flaky layers.
3 tbsp. oil
½ tsp. kosher salt
1 tsp. five spice powder
½ tsp. MSG
3 tbsp. all-purpose flour
In a small pot, heat oil. Add in salt, spices, and MSG, and whisk to combine. Whisk in flour and let cook until toasty, about 30 seconds. Let cool completely, then brush onto pancakes before sprinkling on scallions during assembly.

---

Red Cabbage Okonomiyaki


For the okonomiyaki sauce
¼ c. ketchup
2 tbsp. hoisin sauce
½ tsp. fish sauce
2 tsp. chile adobo sauce
For the okonomiyaki
½ head medium purple cabbage, shredded
2 green onions, thinly sliced
2 medium carrots, shredded
2 cloves garlic, minced
4 medium eggs
½ tsp. kosher salt
½ tsp. ground white pepper
½ tsp. freshly ground black pepper
1 tsp. togarashi
½ tsp. onion powder
½ tsp. mushroom powder
⅓ c. low-sodium chicken broth
4 medium eggs
½ c. all-purpose flour
½ tsp. baking powder
1 tbsp. oil
Japanese mayonnaise, for serving
Bonito flakes, for serving
Furikake, for serving
Make the sauce: In a small bowl, whisk together all ingredients until combined.
Make the okonomiyaki: In a large bowl, combine cabbage, onions, carrots, and garlic. In a medium bowl, beat eggs together with spices and broth, then whisk in flour and baking powder. Pour egg mixture over cabbage mixture and fold to combine.
In a skillet over medium heat, heat oil. Spread ⅓ the cabbage mixture into a circle and cook until lightly golden, 4 to 5 minutes. Flip pancake and continue cooking until golden on the second side, 4 to 5 minutes more.
Spoon sauce on pancake and brush evenly across, then top with squiggles of mayonnaise, a layer of bonito flakes, and a shake of furikake before serving.




---

Sweet & Sour Tamarind Fried Pork
2 tbsp. oil
1 small yellow onion, diced
2 cloves garlic, minced
1″ ginger, grated
2 c. cooked shredded pork
1 tsp. fish sauce
Kosher salt
Freshly cracked black pepper
¼ c. tamarind sauce
2 tbsp. packed brown sugar
In a skillet over medium heat, heat oil. Add in onion, garlic, ginger, and pork and cook until onions are lightly caramelized. Add in fish sauce and season with salt and pepper and stir to combine.
Reduce heat to medium-low. Add in tamarind sauce and sugar and continue cooking, stirring frequently, until meat is deeply golden, caramelized, and bordering on crispy, about 10 minutes.




---

Omurice



For the omurice
3 tbsp. oil, divided
1 small yellow onion, minced
5 cloves garlic, minced
Kosher salt
Freshly ground black pepper
4 c. leftover rice
1 tbsp. low-sodium soy sauce
2 tbsp. ketchup
5 tbsp. reduced chicken broth
7 medium eggs
1 green onion, thinly sliced, for garnish
For the omurice sauce

2 tbsp. reduced bone broth
¼ c. leftover okonomiyaki sauce
Make the rice: In a skillet over medium heat, heat 2 tablespoons oil. Add in yellow onion, garlic, and season with salt and pepper. Cook until onions are slightly golden, then add in rice, soy sauce, ketchup, and 2 tablespoons reduced broth. Stir until each grain of rice is coated with ketchup, then continue cooking, stirring frequently, until rice is glazed and almost caramelized. Transfer to a bowl or mold and gently pack in with a bit of pressure, then set aside.
Make the sauce: In a small pot over low heat, combine both ingredients and whisk to combine. Bring to a simmer, then remove from heat.
Make the omelette: In a medium bowl, whisk eggs with 3 remaining tablespoons of reduced broth and a pinch of kosher salt. In the same skillet over medium-low heat, heat remaining 1 tablespoon oil. Pour in whisked eggs and cook until soft curds form, shaking pan and stirring eggs with a spatula or chopsticks constantly to avoid overcooking. Remove from heat, then gently fold omelette into an almond shape.
To assemble: Cover bowl of fried rice with a plate, then flip to invert rice onto plate. Carefully transfer omelette on top of rice, then pour sauce over.
Garnish with green onions before serving.

Source: Read Full Article