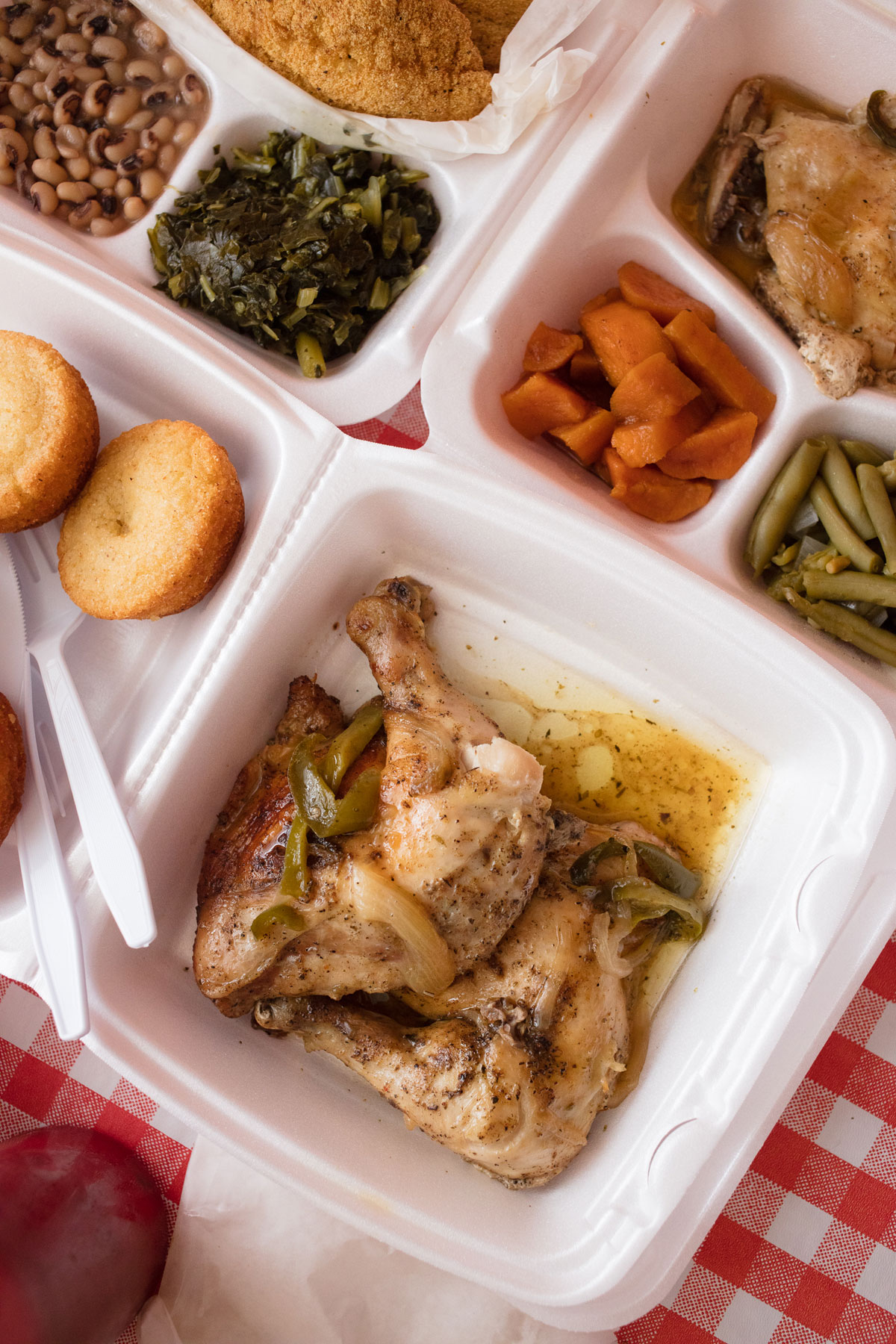 We rolled up to Sugar's Place in the middle of the day in the middle of July. Across the street from the Mississippi College School of Law in Jackson, this little restaurant has some of the best soul food I've ever eaten. I walked in with no appetite and left wishing I had eaten more. And I couldn't stop thinking about its baked chicken. Chef-owner mother-son team Glenda Cage Barner and Donovan Barner worked some magic with those chicken legs. The meat pulled right off the bone but still had a nice chew. You could taste the seasonings all the way through the meat. Onions melted into the jus shimmering around the chicken. It felt as warming as a beloved family meal but like the fantasy version — where your family makes the best chicken in the world.
I'm not going to claim this chicken is as good as Glenda's. You've got to get yourself to Jackson to judge. But I think I've come pretty close. Generously spiced, these chicken legs hang out in the oven for a while, so they're perfect for company. All you have to do before serving is smash the garlic and onion to make a light pan sauce to spoon all over the fork-tender meat.
Baked Chicken with Pan Gravy
Ingredients
2

teaspoons

onion powder

2

teaspoons

garlic powder

2

teaspoons

sweet paprika

1

teaspoon

cayenne pepper

6

chicken legs, excess fat trimmed

Kosher salt

2

onions, very thinly sliced

6

garlic cloves, lightly smashed and peeled

1/4

cup

unsalted chicken stock
Instructions
Preheat the oven to 350°F.

Mix the onion powder, garlic powder, paprika, and cayenne in a small bowl.Season the chicken generously with salt, then sprinkle with the spice mixture.If you have time, cover and refrigerate for at least 4 hours and up to overnight.

Toss the onions and garlic in a 3-quart shallow glass or ceramic baking dish. Spread in an even layer and put the chicken skin side up on top. Pour the stock all around. Cover the dish tightly with foil.

Bake until the chicken is cooked through, about 1 hour. Uncover the dish and flip the chicken in the pan juices. Arrange the pieces skin side up again. Bake uncovered until the meat is fork tender and the skin is lightly browned, about 30 minutes longer.

Transfer the chicken to a serving platter. Use a fork to smash the garlic and onions into the pan juices and stir well to form a light pan gravy. Season to taste with salt and spoon all over the chicken.
Recipe Notes
Make ahead: The spice- rubbed chicken can be refrigerated overnight. The cooked chicken can be refrigerated for up to 3 days.
From the book CARLA HALL'S SOUL FOOD. Copyright © 2018 by Carla Hall. Published October 23, 2018 by Harper Wave, an imprint of HarperCollins Publishers. Reprinted by permission.
Buy the Book! Carla Hall's Soul Food: Everyday and Celebration, $20
Source: Read Full Article