Total:

1 hr

(includes cooling time)

Active:

20 min
Ingredients
8 apples (about 4 pounds), peeled, cored and sliced (try a mix of Granny Smith and Gala)
1 teaspoon pure vanilla extract
1/3 cup plus 3 tablespoons granulated sugar, plus more for sprinkling
8 tablespoons cold unsalted butter, cubed
Kosher salt
1 1/2 cups all-purpose flour (see Cook's Note)
1 tablespoon baking powder
1/2 cup buttermilk
Vanilla ice cream and caramel sauce, for serving
Directions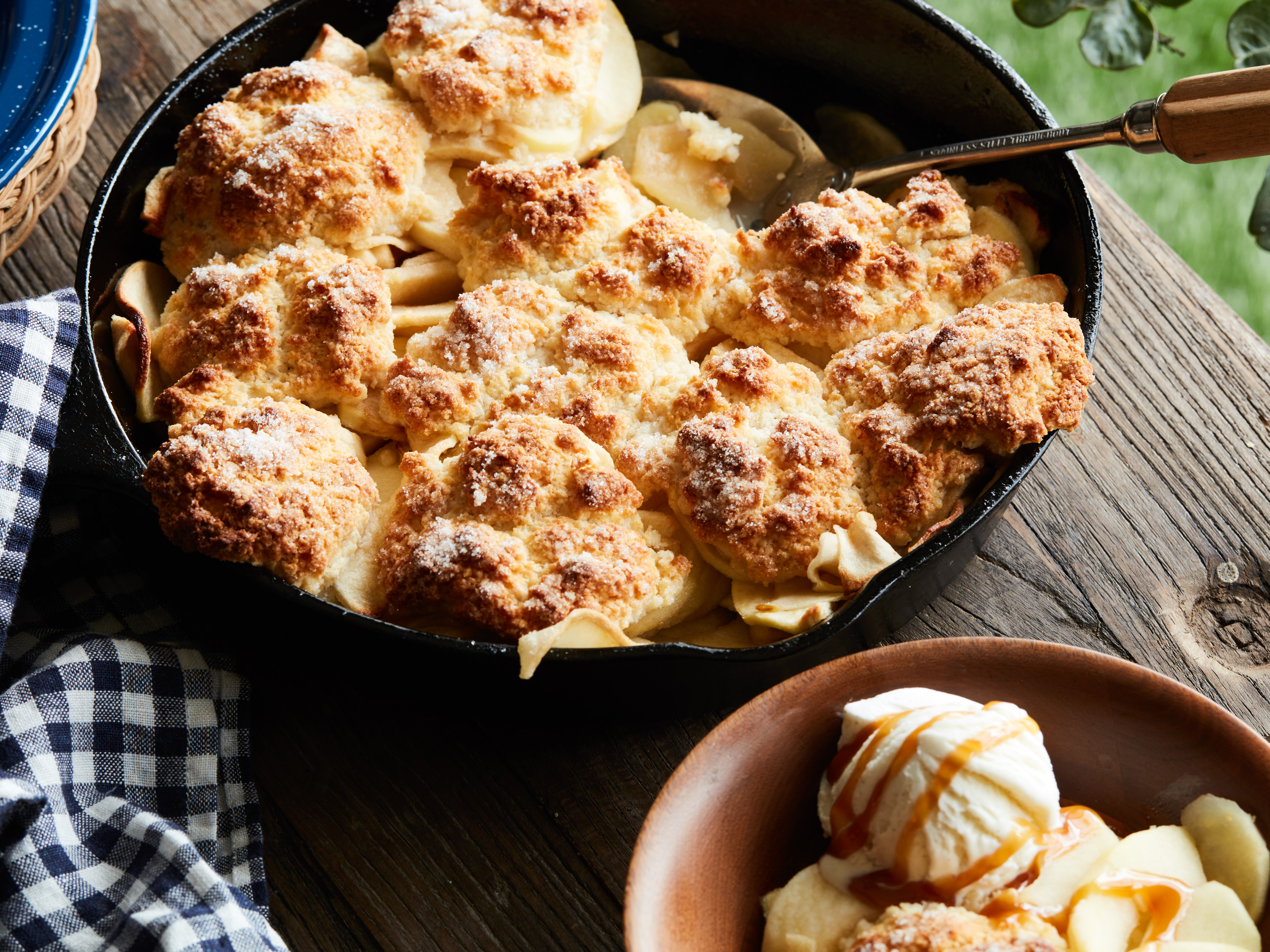 Special equipment:
Prepare a grill for direct and indirect heat: For gas grills (with 3 or more burners), turn all the burners to medium-high heat; after about 15 minutes, turn off one of the side burners and turn the remaining burners down to medium. For charcoal grills, bank one chimney starter-full of lit and ashed-over charcoal briquettes to one side of the grill. If using gas, add soaked wood chips for additional smoky flavor (be sure to consult the grill manufacturer's guide for best results). If your grill has a thermometer, aim to keep the temperature at about 350 degrees F throughout grilling.
Put the apples, vanilla, 1/3 cup of the sugar, 2 tablespoons of the butter and a pinch of salt in a large bowl and toss to combine. Transfer to a 10-inch cast-iron skillet. Set aside.
Combine the flour, baking powder, the remaining 3 tablespoons sugar, and a pinch of salt in a food processor and pulse to combine. Add the remaining 6 tablespoons butter and pulse until the butter pieces are no larger than peas. Add the buttermilk and pulse until the dough just starts to come together in a ball. 
Drop rounded tablespoons of the dough all over the apples. Sprinkle generously with sugar. Transfer the skillet to the direct heat side of the grill, cover the grill and cook, rotating the skillet halfway through, until the apples on the sides of the pan are bubbling and golden brown, 15 to 20 minutes. Move the skillet to the indirect side of the grill, cover the grill and cook until the dough is cooked through and golden on top, about 15 minutes more. 
Remove the skillet from the grill and let cool for 10 minutes. Serve the cobbler topped with ice cream and caramel sauce. 
Cook's Note
When measuring flour, we spoon it into a dry measuring cup and level off excess. (Scooping directly from the bag compacts the flour, resulting in dry baked goods.)
Source: Read Full Article