How many people love breakfast? Lots of people love breakfast. If you are anything like me, you end up eating savory food most days, and things like French toast or pancakes are reserved for special mornings. Or, maybe you eat pancakes every day? Either way, we wanted toshare a delicious and easy (but somewhat labor intensive) stuffed French toast recipe. The inspiration comes primarilyfrom our love of brioche bread. We. both have had stuffed French toast before, but never tried making it. So, this was also an exciting new breakfast to create.
Because we. both love all things homemade, we wanted to make our whipped cream and blueberry compote toppings from scratch. They are. simple and easy to make, but add diversity in the flavor of the dish, and create a beautiful aesthetic. For the filling, we took store bought whipped cream cheese and elevated it with flavors like lemon and mint. Hopefully by now you are really interested in knowing the recipe. Check it out below!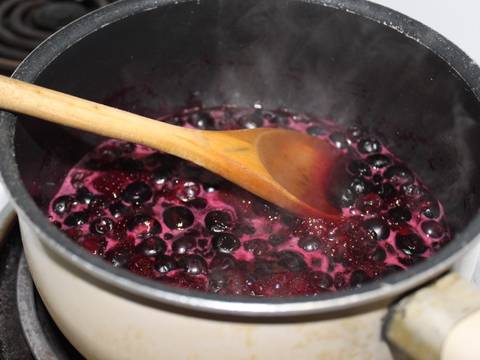 Make your cream cheese filling. Chop approximately 1 Tbls. of fresh mint and add to a small bowl with 6 oz. of whipped cream cheese. Add 1 Tsp. of lemon zest to the bowl. Add about 1 Tsp. of honey and 1 Tsp. off granulated sugar. Mix until everything is evenly distributed. Don't forget to taste and see if you need to adjust it to your liking! Place in the fridge until needed.
Make your whipped cream. Place 1 cup of heavy whipping cream into a chilled mixing bowl (To do this, place a mixing bowl and whisk or whisk attachments in your freezer for 10-15 minutes). Add at least 2 Tbls. of confectioners sugar and 1 Tsp. of vanilla extract. We used 4. Tbls. of sugar to make the whipped cream sweeter. Using a stand mixer, egg beater, or your own hands, whisk the mixture until you've reached stiff peaks and the whipped cream holds it's shape. Place in the fridge until needed.
Make your egg mixture. Crack 3 eggs into a medium sized mixing bowl. Add 2 Tbls. of heavy cream, 2 Tsp. of ground cinnamon, 1 Tsp. of vanilla extract, and 2 Tbls. granulated sugar and whisk until well-mixed. Of course, you can adjust these amounts as needed. Maybe you like to turn the sweetness up even more!
Slice the brioche loaf into 8 thick (about 1 inch or so) slices. Spread some of the cream cheese mixture on one side of each slide. Take two slices and place one on top of the other as if you were assembling a sandwich, with the cream cheese in the middle. Dredge each 'sandwich' in the egg mixture. Leave the sandwich submerged, flipping a few times, for about 10-15 seconds. This will ensure your bread has soaked up all the wonderful gooeyness. While preparing the French toast, place about 2 Tbls
Okay, you have made it to the end. Assemble your French toast with the whipped cream and blueberry compote. Sprinkle with confectioners sugar, fresh mint and/or maple syrup if desired! Now go eat.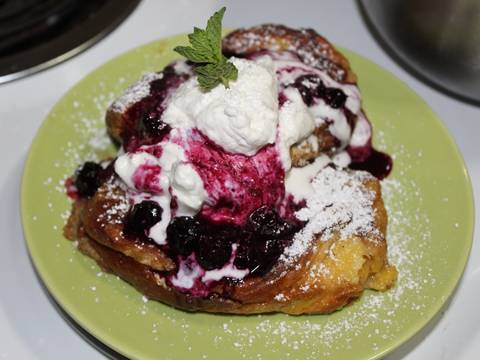 Source: Read Full Article