Total:

50 min

Active:

30 min
Ingredients
Directions
Try this cooking class now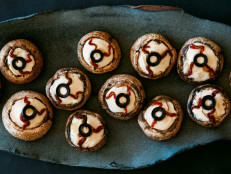 Try this cooking class now
Watch Class
Special equipment:
Preheat the oven to 400 degrees F; line 2 baking sheets with parchment.
Remove the stems from the mushrooms and reserve for another use. Use a melon baller or 1/4-teaspoon measuring spoon to scoop out any remaining stems and gills from inside the mushroom caps. You want to create a large enough cavity to fit 1 1/2 to 2 teaspoons of filling.  
Combine the cream cheese, Cheddar, garlic, 1/4 teaspoon salt and a few grinds of white pepper in a large bowl. Transfer the mixture to a piping bag. 
Arrange the mushroom caps on the prepared baking sheets. Pipe 1 1/2 to 2 teaspoons of the filling into each mushroom cavity and smooth the tops with a small offset spatula. (The filling will rise as it bakes, so it should not be higher than the opening of the mushroom cavity.) 
Cut the sun-dried tomatoes into thin strips, trimming as needed to fit the mushrooms. Top each mushroom with a few strips (they look more like veins if you scrunch them before placing them on the filling). Place an olive slice in the center of each mushroom and press into the filling to adhere. 
Bake until the mushrooms are tender and the filling has risen slightly, 15 to 17 minutes. (If any of the olives slide during baking, move them back into place when they come out of the oven.) Let cool slightly before serving.
Source: Read Full Article