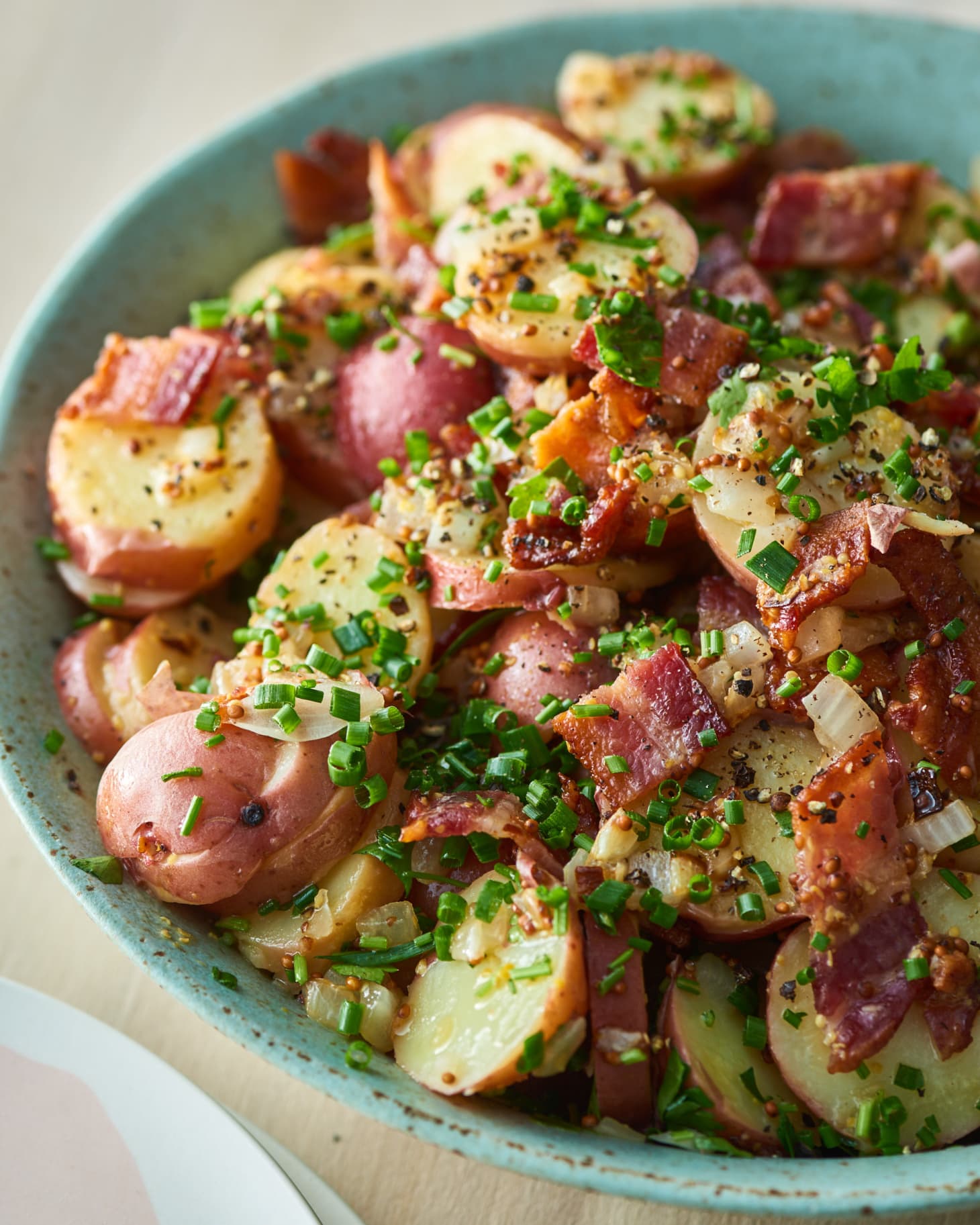 With the dog days of summer still ahead of us, there's a lot of corn on the cob, fresh fruit salad, and potato salad (my favorite!) still to be eaten. While you can serve it Southern and smashed or loaded with cheese, I'm partial to this German potato salad, which packs in an exceptional amount of flavor and is always the first thing at picnics and potlucks to be eaten. It's made with sliced baby red potatoes, crisp-chewy bacon, and lots of fresh herbs, all tossed together in a warm and tangy bacon vinaigrette.
Use Baby Red Potatoes for the Best Potato Salad
Potatoes are generally divided into three categories: starchy, waxy, and all-purpose. Red potatoes, which fall into the waxy category, are your best best for potato salads because they hold their shape even after being tossed with add-ins and dressings. All-purpose potatoes, like Yukon Gold, generally hold their shape despite having slightly more starch, so they will also work.
Small, baby red potatoes have the best flavor. Look for potatoes that are uniformly sized so that they cook evenly when boiled. I like the color that the skin adds to the finished potato salad, but feel free to slip off and discard any peels that come off easily after the potatoes are cooked.
Learn more: Best Potatoes for Potato Salad
How to Make the Smoky, Tangy, Hot Bacon Dressing That Makes This Salad So Craveable
It's perhaps no surprise that cured meat (bacon) is the star ingredient in this classic German potato salad, and we've imparted its smoky flavor in multiple ways. After crisping the bacon and cooking an onion in the rendered fat, you'll use the remaining fat to whisk up a delicious vinaigrette (the amount of fat you'll use will vary depending on the brand of bacon and how aggressively the onions soak it up).
The smoky, tangy vinaigrette is really what makes this potato salad stand out from all others. You'll mix the bacon fat with enough vegetable oil to equal 3 tablespoons,whisk in grainy mustard and white wine vinegar, then pour it over a mouthwatering combination of potatoes, bacon, and herbs. Even if it appears to be too much dressing, you'll want to use it all, because the potatoes will absorb its flavor as it sits.
Serve this potato salad warm or at room temperature, as the refrigerator dulls the flavors and aroma.
Classic German Potato Salad
Ingredients
2 1/2

pounds

unpeeled baby red potatoes (no larger than 2-inches in diameter)

1

tablespoon

plus 1/2 teaspoon kosher salt, divided

4

slices

thick-cut bacon (6 ounces), diced

1

small yellow onion, diced

1 to 3

tablespoons

vegetable oil

3

tablespoons

white wine vinegar

1

tablespoon

granulated sugar

1

tablespoon

whole grain mustard

1/2

teaspoon

freshly ground black pepper

2

tablespoons

chopped fresh chives

1

tablespoon

chopped fresh flat-leaf parsley leaves
Instructions
Place the potatoes and 1 tablespoon of the salt in a large saucepan. Cover by 1 inch with cool water, then bring to a boil over high heat. Reduce the heat to medium and simmer until the potatoes are easily pierced with a knife, 30 to 35 minutes. Meanwhile, cook the bacon.

Place the bacon in a large skillet over medium heat and cook until the fat begins to render, about 8 minutes. Add the onion and cook until the onion and bacon brown and the bacon is crisp, 13 to 15 minutes. Use a slotted spoon to transfer the bacon and onions to a paper towel-lined plate. Measure the remaining fat in the pan. If there is less than 3 tablespoons, add enough oil to equal 3 tablespoons.

Drain the cooked potatoes in a colander and rinse under cold water just until they are cool enough to handle. If desired, peel potatoes with your fingers or a vegetable peeler. Slice into 1/4-inch thick rounds and transfer to a large bowl.

Place the vinegar, sugar, mustard, pepper, remaining 1/2 teaspoon salt, and the bacon fat in a jar, cover, and shake to combine. Add the chives, parsley, bacon and onion mixture, and dressing to the sliced potatoes, toss, and set aside for 10 minutes. Serve warm or at room temperature.
Recipe Notes
Storage: Refrigerate leftovers in an airtight container for up to 4 days.
Source: Read Full Article