Ingredients
Directions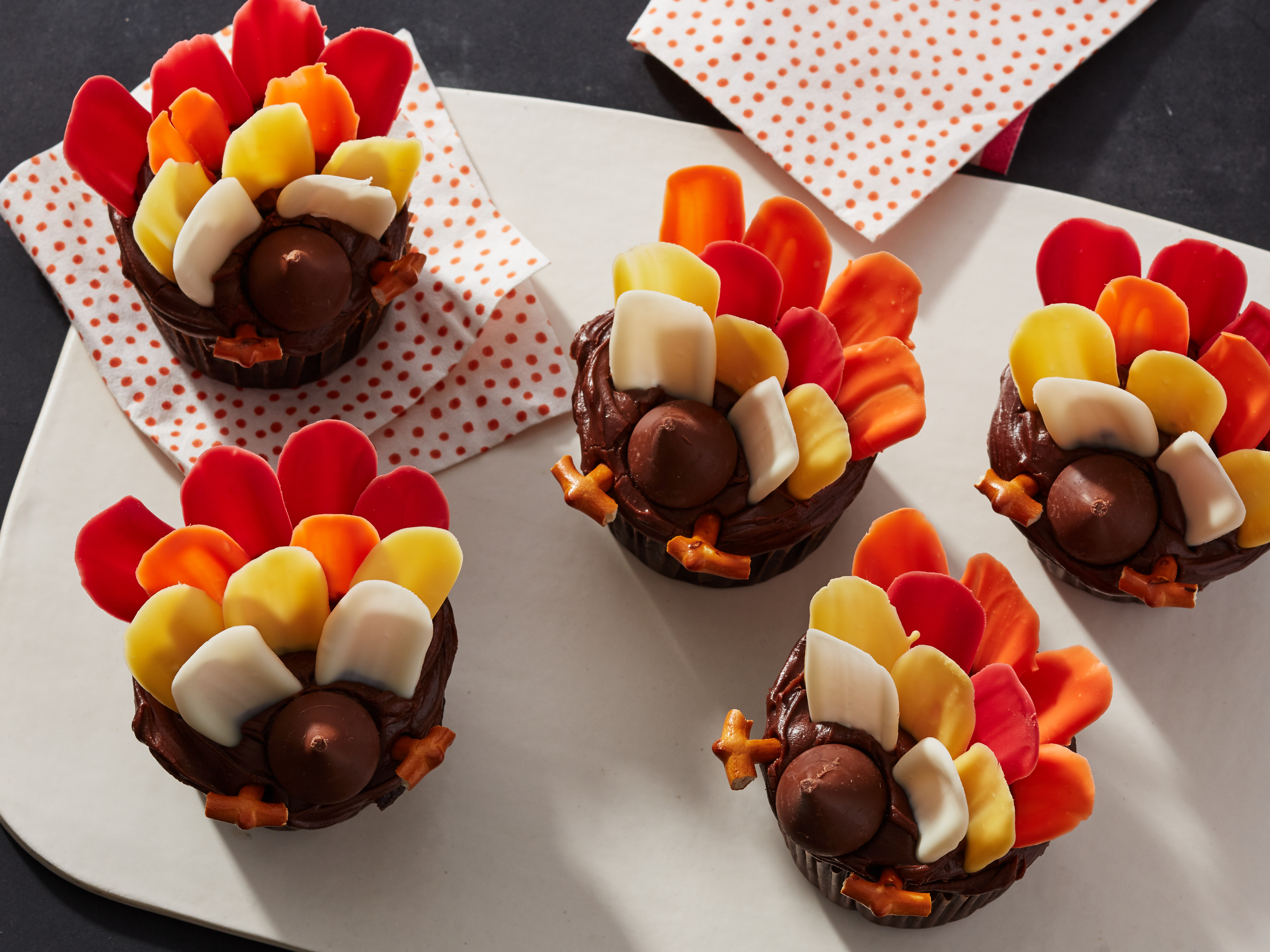 Special equipment:
Bake 24 cupcakes according to the package directions. Let cool completely.
Meanwhile, cut 4 sheets of parchment to about the size of baking sheets. In separate microwave-safe bowls, melt the melting candy in the microwave in 10 second intervals until fully melted. 
Dip a 1/2-inch paintbrush into one color of melted candy, making sure you have a generous amount on the brush. Paint a 1-inch stripe on one of the parchment pieces; the line should be opaque– brush on more if necessary. Repeat with the remaining melts, covering each piece of parchment with different colored candy lines. You should have 72 brushstrokes of the white candy and 96 brushstrokes each of the yellow, orange and red candy. If the bowls of melting candy harden during the process, soften in the microwave as needed. Let the stripes set at room temperature until dried, about 15 minutes.
Pipe or spread a generous amount of frosting on the cupcakes (at least 1/2 inch of frosting per cupcake). Press a milk chocolate drop candy, point-side up on each cupcake, positioning it on the lower third of the center. These are the turkey tails. 
Cut or break each pretzel so you get 2 T-shaped pieces out of each one. These will be the turkeys' feet. 
Next, add the feathers: Carefully peel off 4 red brushstrokes and insert them in a row along the top edge of a cupcake at a 45-degree angle. These are the back feathers. Make a second row of 4 orange brushstrokes in front of the red ones. Then add 4 yellow brushstrokes in front of the orange and 3 white brushstrokes in front of the yellow. Insert a pretzel foot on either side of the chocolate drop candy. Repeat with the remaining ingredients to make 23 more cupcakes. 
Source: Read Full Article